Barbara Bixby 20" Gemstone Bead Necklace, Sterling/18K
In Stock
Sold Out
We're sorry. This item is not available at this time.
Pre Order Possible .
Low Stock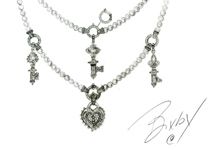 A Note from the Designer
"I wanted to create a signature gemstone necklace that could be worn in various ways. I love combining pieces (like the Eastern Time charms or my keys and locks) and wanted to bring my customers something beautiful that was versatile and fun. When I was working on the design and trying to create a balance, I thought about the symbolism of the number six (which symbolizes celestial harmony and balance) and it worked perfectly into the concept. Choose Amethyst for spirituality and meditation and Garnet for happiness and energy."
—Barbara Bixby
Description
Absolutely bedazzling. Round, faceted gemstone beads compose the length of this fabulous necklace, as open sterling silver circle stations are interspersed along the piece. Each station is designed with a textured pattern as well as scroll- and beaded texture endcaps. The center station beams with an 18K yellow gold signature Bixby flower. From Barbara Bixby.
Amethyst or Garnet.
Sterling silver, 18K yellow gold
Gemstone weight is not given for beads
Beads measure approximately 6.0mm
Oxidized finish
Round, push-hinge closure
Measures approximately 20"L x 1/4"W
Box, pouch, romance card
Made in China
Reviews & Community QA
J153214 - Barbara Bixby 20" Gemstone Bead Necklace, Sterling/18K
37
37
Love! Love! Love!
This necklace is so pretty and I love that the clasp looks like all the other rings. I love the color and it goes so well with jeans and a great purple sweater.
01-08-11
Nice Piece!
I ordered this in the amethyst version, in the 26 inch length. I did exchange it for the 20 inch because I was a little concerned that the clasp might wear out over time. The 26 inch can fit over my head and the clasp doesn't have to be used. The amethyst beads were a deep purple, though transparent. Only 2 or 3 beads were a little grayish or cloudy. The necklace I received looks like it's a little better quality than the one pictured online.I love using the clasp to showcase my pendants. Makes a nice statement.
12-30-10
Beautiful!
I love it with the garnet cross pendant that she sells. It is a gorgeous necklace, Don't understand the negative reviews!
11-11-10
Disappointed
Love Barbara Bixby's style. Disappointed in the quality of this piece. Still kept it even though I didn't think the price matched the quality. I kept it because I loved the design. After I wore it about 6 times it just broke. I didn't even do anything to it besides picking it up off the dresser. Beads went everywhere. Back it went.
11-07-10
No sparkle in the garnet gemstones!
I ordered both sizes in this necklace and was very sad to see the necklace lacked the luster and beauty as I saw on the TV presentation. I guess the lighting just has to be right or something. To me this necklace is very dull and drab and the clasp is just terrible. Barbara, you need to stick to closures that are easy and standard that everyone is used to, you could never gift this necklace to someone unless you sent along instructions in detail explaining how the clasp works. Better luck next time! Both necklaces are on the way back-sorry Barbara!
10-28-10
Fabulous Necklace. 10 STAR
I love this piece so much. I love it all by itself and I love it with my Key Enhancer . WHAT a great buy from a great artist designer.
10-03-10
Compliments Galore
I just LOVE this necklace. I got it in Garnet when it was a TSV and when it arrived, I knew I needed the Amethyst as well. I now have both and have received more compliments on them than any necklace I've owned. The clasp took me a moment to figure out but once I did it's soooo simple and really genius!
09-26-10
Nothing special
Brownish garnets, annoying clasp. Not worth the money.
09-19-10
Beautiful Beads BUT I was Disappointed...
I ordered 2 of these 20 inch Necklaces because they would have worked so well with my collection of Pendants and Enhancers. The COLOR and the QUALITY of both the Amethyst and the Garnet Beads was TERRIFIC...However, I really did NOT like the clasp and the way it closed. I rewatched the video presentation and I still found it difficult to close. Maybe, my difficulty was due to my age?? (I am in my early 60's)... So, IF the closure doesn't bother you, then you should buy this necklace. I sadly returned both necklaces.
09-15-10
Very cool!
I ordered the amethyst and I really like it. I want to wear it with and without charms. The clasp was very easy to find and operate, I had no problem. I do wonder how durable and strong the clasp will be but only time will tell. The stations were a little dull and blackish but I am going to shine them up with my polishing cloth. It really is a pretty necklace although I think I would have preferred polished beads rather than faceted. I prefer shine over sparkle. I'm very happy with this purchase!
09-15-10
Pretty Amethyst but...
I would ask Barbara to include instructions on how to use her clasp. I had to return the first one because the clasp was broken. I did see the video presentation and I still had to go back and look at it again to figure it out. My second one is good but the beads are tight- I am probably going to keep it because I already have matching earrings that make it a good ensemble. I would recommend with a caveat and some improvements.
09-11-10
Sending this back now!
Dark brown garnets. Tarnished looking silver. Not up to Barbra Bixby's standards. Opened it up and put it right back in the mail. Need I say more?
09-08-10