B.Makowsky Glove Leather Medium Zip Top Satchel with Braided Straps
In Stock
Sold Out
We're sorry. This item is not available at this time.
Pre Order Possible .
Low Stock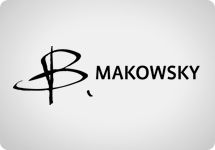 Leather Love
Click the links below for more about the B. Makowsky brand.
Description
Your everyday bag--why should it be boring? With fresh details on luxurious glove leather, plus an exciting mix of colors, metallics, and prints to choose from, this medium-sized B. Makowsky satchel suits your lifestyle without skimping on personal flair.
It's the season's "it" bag: fashionably detailed and smart about it--you'll enjoy its details season after season. Gathered pockets, beautiful braided straps, and gleaming hardware exemplify "trend-right, done right." The snake print lining nods to safari style without going wild, and the gorgeous glove leather really elevates the appeal. This is an upscale accessory you'll be proud to carry.
Because fashion without function won't do in the real world, this versatile carryall works for you. It's outfitted with plenty of exterior pockets to keep items handy, plus a roomy interior offers serious stow space for all your essentials. Not too big or too small, the bag is perfect for work or play, any day.
Whatever your "pursonality," there's a choice for you. Keep it simple in solid color; show off some shine with a shimmery metallic; or go for bold with a multicolor choice--yes the print is really leather! From B. Makowsky.
Style: Caroline
Bronze: goldtone hardware
All other choices: silvertone hardware
Braided straps, zip top closure, two front slip pockets, two gusset slip pockets, one back slit pocket, four bottom feet
Snake print lining, back-wall zip pocket, two back-wall slip pockets, D-ring
Measures 14"W x 10"H x 4-3/4"D with an 11" strap drop; weighs 1 lb, 13 oz
Body/trim 100% genuine leather; lining 100% polyester
Made in China
Reviews & Community QA
B.Makowsky Glove Leather Medium Zip Top Satchel with Braided Straps
272
272
sooo soft
Received this handbag as a gift in the camo and it is fantastic. My first "B-MAC" bag. I had to look at the tag to make sure it was really leather. It is baby soft, it feels like micro fiber, in a good way. I am in my 50's but with a houseful of males who are camo crazy I saw this bag and fell in love with it. Try Bruce's glove leather it is so nice and his stuff is to die for. love-love-love it
03-04-13
Not Glove Leather
Why does QVC allow this to be called glove leather when it is pebble leather? I hunted and hunted for a glove leather bag. I love the organization of it, the comfort on my shoulder, the color. The design is perfect. Now give it to me in real glove leather. I am going to ask for a return refund on this bag. It is not what they advertise it to be. This does Mr. Makowsky's reputation no good. I've had the glove leather. I know the difference.
02-07-13
Bag Straps Came out after 3 weeks of use
Wow, did I love this bag. But after using for three weeks, the straps broke out of the bag. What a disappointment. Let's see if QVC does the right thing and refund my purchase. Although I bought it a while ago, I only used it for three weeks. Step up, QVC.
12-24-12
A WINNER! AWESOME in every way! My very lucky day!
WOW! My FIRST B. Makowsky bag that I feel so lucky to have and will be keeping this one! I tried two others and didn't care for them but this is a WINNER! This leather is so soft, yes like butter yet it feels like it is strong enough to last many many years!! The size is very good: can fit wallet, brush, makeup bag, cell phone, IPod, checkbook, any E book reader if you wish plus other items. The 4 outside pockets plus the one for the cell phone will make getting some things very easy to locate. Love the little ring inside so I can clip my keys to it plus I have a wallet with a chair that I clip to something in or outside my bags. I also like that it has a zippered closure for the main part of the bag. I highly recomment this to everyone! For yourself or as a very special gift! It's not a very large bag but will hold more then a cross body.
12-19-12
Love this bag!!
I bought the pewter and although its a little bright more like a silver, I still love it. I just need to get used to the color, its my first metallic bag. I have a couple B. Makowsky's and they tend to be heavy bags. This one is a perfect weight,great strap length and awesome cargo space. The outside pockets are the best and I must say I have stayed away from B. Makowsky bags lately cause I am really tired of his same interior print, he lightens it up with this print.. Just love love this bag. I need it black now!!
09-26-12
Perfection
There is not one thing I don't love about this bag. I bought it in Pewter and just absolutely love it. The pockets on the front do NOT look like a diaper bag, but instead are very well constructed and I love the extra spaces. I have not had any problem with the color fading and the zippered top is perfect. I feel very fortunate to have found this with the clearance pricing. Perfect bag!
09-09-12
Quality Not As Expected
While I was so excited to get this purse, my first B Mak purchase, and LOVED the pewter color, this purse just did not live up to expectations. Within a few weeks, the inside lining tore -- This has never happened to me with the full range of purse brands I own: Kooba, D&B, Coach, Tignanello, etc -- both more and less expensive than BMak. However, it was a busy work & personal time for me, so I did not return it. The outside pockets are great, but -- as someone else mentioned -- they do have a bit of a "diaper bag" look. On a side note, I *lost* my work Blackberry in one of the pockets for days, :-) so they are definitely deep! The braided handle was beautiful and comfortable, but the pewter finish on it faded quickly, and then started to do so in patches on the body leather as well -- so it looks like a (too) dull dark grey, which is not pretty. Last, but certainly not least, the bag is heavy and when loaded with my regular assortment of bring-alongs, it was causing me shoulder issues. Right now, I just use it as a knock-around purse, but it does not have the polish for dress occasions and soon will have to go to the trash or risk making me look like a bag lady. Nonetheless, I think BMak has some good concepts and I have since ordered a different bag (the TSV crossbody bucket), which I am very hopeful for (no metallic finish, for one). Hoping that one works out.
08-27-12
Absolute Fave..Please Bring Back In More Colors!!!
I have this bag in white and have not had a problem with it getting dirty. It is supersoft, well-made, light, roomy, with great outside pockets with easy access, and it is very girly. Of all my many B-Mak handbags, this one gets the most compliments hands down! More people have stopped me to ask me where I purchased it because they want it also. I tell them QVC. I just love, love, love this bag and wish so much that it could be brought back in more solid, non-metallic colors such as olive or sage green, navy, taupe, etc. Thank you, Bruce, for this fantastic, very beloved handbag... I just LOVE it!!!
08-14-12
Super cool camo
Luv this bag, so much pocket room and still secure with the zipper close top. Super cool design with the camo and silver hardware. I really enjoy using this bag and of course the super soft leather.
08-11-12
AMAZING BAG!!!
I've had my eye on this bag for quite a while now (in the blue multi), so when the Easy Pay came along, I had to get it. O.M.G., this is a fantastic bag; the leather is incredibly soft; outside pockets are a must-have for me, so I love that feature; and the bag is not too big and not too small - just a perfect size. I ordered 2 other B. Makowsky bags recently and returned them both, but this one's a keeper!!! I guess 3rd time is the charm!!!!!
07-25-12
Ultra soft leather, has held up well for me
I purchased this bag in black in 3/11. I have used it as my main purse (and I am too lazy to switch very often), and it has held up great for me. That's over a year of M-F use. The braided leather handles still look like new. None of the contrast stitching has broken. The exterior cell phone pouch is fine. The lining is intact with no sign of wear. I get compliments on this bag all the time. I love how light the leather is. I appreciate the full zipper top to keep items secure, and how wide it opens to make it easy to find things. I use one of the exterior pockets to put my keys in. I just ordered another color at the clearance price. The clearance price is LOWER than the original price which I think was a TSV price. I like this purse much more than purses I have paid more money for (although it isn't cheap by any means) because it is a great size, not too heavy, and feels and looks good. If you see a color you like, go for it.
07-15-12