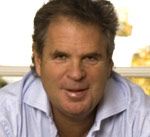 About Bruce Makowsky
A shared passion for bags. In 2006, Bruce Makowsky and wife Kathy Van Zeeland launched B. Makowsky—a gorgeous line of high-end leather handbags.
Bruce's collection features exquisite details such as braiding, fringes, hand-stitching, and signature lining. Zippers and pockets add function, not bulk; and colors range from classic to contempo. Accented by chunky, satin-finished hardware, these affordable luxuries carry off long-lasting beauty and style.
As Bruce puts it, "My handbags are luxury basics. They'll look good today—and three years from today."