Apple iPad mini 16GB WiFi with Keyboard, Neoprene Sleeve 7pc Accessory K
In Stock
Sold Out
We're sorry. This item is not available at this time.
Pre Order Possible .
Low Stock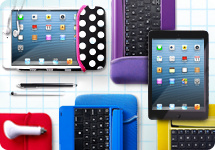 Small Wonder
Watch as Apple® Expert, Craig Smith, shows you how to connect your new iPad mini™ to your Wi-Fi.
See Craig Smith show you how to connect your Bluetooth keyboard to your iPad mini™.
Check out great accessories to keep your iPad mini™ charged and ready to use on the go.
Description
You know what they say--great things come in small packages. Take the 16GB Apple(R) iPad mini(TM); it has many of the top iPad features you love packed into a sleek, portable device that fits right in your hand.
What makes the 16GB Wi-Fi iPad mini special? Just swipe your hand across its 7.9" diagonal LED-backlit display to check email, create documents, watch videos, listen to music, surf the Web, and more. The text is razor sharp; colors are vibrant; and photos and videos come to life in rich detail.
What can it do for me? Ultra-fast Wi-Fi capabilities provide access to more than 275,000 apps. Get the weather, news, sports, and stock updates instantly; check your Facebook and Twitter accounts; map your next road trip; and find a recipe for dinner--all within minutes.
Why should I choose Wi-Fi only? Besides the lower price--there's no contract! Simply connect to the Web wherever there's an available wireless network. Why pay for 4G service if you don't really need it?
And, with the included accessory kit, you're ready to roll with your new device. Attach the Bluetooth keyboard cover for a more tactile feel when typing. Don't want to disturb others? Pop in the earbuds. Watch movies, TV shows, and clips hands-free with the included stand. And a variety of other helpful accessories ensure you make the most of your iPad mini.
What's in the box? 16GB Wi-Fi iPad mini with AC adapter and lightning-to-USB cable, Bluetooth keyboard cover, car charger, stand, two stylus pens, screen protector, headphone splitter, earbuds, protective neoprene sleeve, and a $25 restaurant.com gift card.
Access to and use of the Internet may require payment of a separate fee to an Internet Service Provider.
Wireless capability may require a network connection, additional accessories, and/or a service connection fee.
Use of Bluetooth technology may require Bluetooth software and compatible accessories.
Includes 16GB Wi-Fi iPad mini with AC adapter and lightning-to-USB cable, Bluetooth keyboard cover, car charger, stand, two stylus pens, screen protector, headphone splitter, earbuds, protective neoprene sleeve, and a $25 restaurant.com gift card
iOS 6 OS
16GB
Dual-core Apple A5 processor
7.9" diag LED-backlit multi-touch display with IPS technology, 1024x768, fingerprint-resistant oleophobic coating
Built-in 802.11a/b/g/n Wi-Fi
Bluetooth 4.0
5MP rear-facing iSight camera with auto focus, face detection, tap to focus, tap to control exposure
HD 1080p video recording with video stabilization, face detection, tap to focus
Front-facing FaceTime camera with 720p video, video calling over Wi-Fi, face detection, tap to control exposure
Built-in speakers/mic
Built-in lithium-polymer battery
Lightning dock connector port
Stereo headphone mini jack
Approx.: iPad Mini 7-7/8"L x 5-1/4"W x 1/4"D, weighs 11 oz; keyboard 7-7/8"W x 6-1/8"L x 3/4"D, weighs 9 oz
UL listed adapter; 1-year LMW
Made in China
Reviews & Community QA
Apple iPad mini 16GB WiFi with Keyboard, Neoprene Sleeve 7pc Accessory K
39
39
I-Pad Great -- Keyboard Not so Good
I wanted to really play with the I-Pad and accessories a while before reviewing -- First the I-Pad is great --Fairly easy to set up -- Little bit of a learning curve but I'm really enjoying exploring and being able to read and/or have TV on at the same time as surfing the I-Pad -- I do wish that the unit came with the 159 page instruction/how to get the most out of the I-Pad itself -- Yes I know you can download it but it would have been nice to have it included -- The Keyboard -- was able to connect it just fine -- however, sometimes it works and other times it does not -- really don't mind that its small -- but again very frustrating when it doesn't work "on cue" -- would have much preferred having the apple keyboard included or the Logitech that they also recommend and sell -- would have been willing to pay more for the package and these keyboards are not expensive--and work The cover for the I-Pad has a distinct odor -- hopefully it will decrease -- Again, I would have much rather had an apple cover -- which I will purchase -- Stylus is fine I'm going to keep my I-Pad because it's working just fine and I really like it but I would ask QVC to please strongly consider having the accessories with a "Named Product" included in a TSV -- Yes, the overall price might be more, but I for one would rather pay an increased amount and receive the accessories that actually are made for the product or charge less and don't include them.
09-30-13
I Love Mine
I am so glad I got this and on easy pay to boot. I had trouble at first setting up the keypad but my daughter helped me and now all is running great. There's not a thing bad I can say about mine. I take mine everywhere with me. Thank you QVC.
09-29-13
I LOVE my iPad Mini AND the accessories.
I am just endlessly amazed at all the whining about this device and the accessories...all I can think is that people purchased this set without having a clue what they were ordering. Of course there are only about 30+ reviews at this time and QVC sold THOUSANDS of these. Everything included has worked flawlessly for me, including the keyboard (which connected to the Mini in just seconds)...it's so handy that I can type away on stuff (I'm NOT good with the on screen keyboards) while any place except the desk...great. The sleeve is perfect for me because I rarely can use the Mini while I'm at work but it's protected in my bag and the sleeve weighs virtually nothing. I think there would be much less whining if people had been using an iPod Touch for the last 4+ years...that is a challenge! Thank you QVC for bringing this setup to us. I'm very happy and love the EASY Pay! Try getting no interest installments at any other retailers...good luck with that!
09-21-13
color was off
This I pad was not the color I wanted. I asked for yellow and the soft case was yellow but the key board looked like a neon green.
09-20-13
Keyboard A Real Problem
I have to agree with many others on the useless keyboard that came with the Mini iPad. I was so excited to be able to type on it and it just does now work. I even connected with Craig on FB to ask his help and I did everything he posted put still will not connect. My other devices have no problem. I love the Mini Ipad but, I would think that QVC would look into replacing these bad keyboards for so many of us. I would return it for another one, but, my color is gone. Sad I have to write a review with negative things to say.
09-18-13
Love the iPad, Not the Keyboard!
I love my iPad Mini. The Keyboard does not work. The light comes on but no connection to the iPad. I will keep the Pad and just get rid of the Keyboard.
09-17-13
Very Disappointed With This Ipad mini
At first didn't have any problems but after only using it for about 3 wks it won't keep a charge. If I use it for 5 minutes I have to recharge it again. The pen doesn't work all the time either. Sorry to say, but it is going back.
09-15-13
I LOVE MY IPAD MINI !!!!
I bought this as a TSV & so glad I did, I had no problems setting any of this up, I love the keyboard it's like a mini laptop & have no problems fitting the Ipad with the keyboard attached into the case, It fits into my purse so I can take it anywhere I go, Love Love the Easy Pay ! Thank You QVC for helping this fit into my budget.
09-14-13
The Bluethooth Keyboard is a joke
Like everyone else it would have been nice to have an instruction booklet. Finally got the ipad set up.Took me awhile. Tried to set up the keyboard, have not had any luck with it. To me it is cheap. I can get the on & off button to work but the buttone at the bottom whatever it is for does not push in. Really disappointed in this. The stand that came with it is a rubber stand. Not to sturdy. I would send this back, but I already have the ipad up and running and don't want to go thru that again. Think QVC should stand behind this keyboard and be able to exchange it thru them.
09-11-13
No support lI could live with!
IPAD is great, but the tech support provided by the people who packaged the blue tooth equipment is severely lacking. I work 10 hours a day and the only support they offer was 9-5 weekdays which is not my schedule or I use instructions on their website which I tried but did not work either. Had I known the support would not be from Apple, I would not have purchased this item.
09-10-13
Acessories Sub-standard
I could not get the keyboard to pair, and I have paired other bluetooth devices. The mini ipad is awesome.
09-10-13
Some Accessories Are Waste Of Money
The iPad mini in this bundle works fine. Touch-typists will find the included small wireless keyboard useless as the keys are very small and too close together making typing impossible. I use my full size wireless keyboard. The neoprene sleeve is somewhat cumbersome; I'll be purchasing a wallet case for carrying this unit in my purse. The other accessories are good. I bought this as a 'one time only' value and will keep it. At the regular price I would have returned it because of the small keyboard.
09-10-13