Apple iPad mini 16GB WiFi w/Keyboard, Case & Lifetime Tech Support
In Stock
Sold Out
We're sorry. This item is not available at this time.
Pre Order Possible .
Low Stock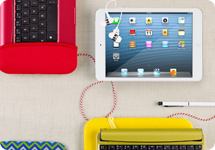 Power in the Palm of Your Hand
Description
Small can do it all this holiday season! The 16GB Apple(R) iPad mini(TM) has the top iPad(R) features everyone loves packed into a sleek, portable device. And it also includes awesome accessories in all the coolest colors.
What makes the 16GB Wi-Fi iPad mini special? Just swipe your hand across its 7.9" diagonal LED-backlit display to check email, create documents, watch videos, listen to music, surf the Web, and more. The text is razor sharp; colors are vibrant; and photos and videos come to life in rich detail.
What can it do for me? Ultra-fast Wi-Fi capabilities provide access to more than 275,000 apps. Get the weather, news, sports, and stock updates instantly; check your Facebook and Twitter accounts; map your next road trip; and find a recipe for dinner--all within minutes.
Why should I choose Wi-Fi only? Besides the lower price--there's no contract! Simply connect to the Web wherever there's an available wireless network. Why pay for 4G service if you don't really need it?
And, with the included accessory kit, you're ready to roll with your new device. Attach the Bluetooth keyboard cover for a more tactile feel when typing. Don't want to disturb others? Pop in the earbuds. Watch movies, TV shows, and clips hands-free with the included stand. And a variety of other helpful accessories ensure you make the most of your iPad mini. You'll also receive Premier Tablet Support for the life of the tablet, and a $50 Printer Pix voucher (may ship separately).
What's in the box? 16GB Wi-Fi iPad mini with AC adapter/USB cable, USB extension cord, Bluetooth keyboard cover, car charger, stand, protective neoprene case, stylus/pen combo, headphone splitter, earbuds, Zinio $100 offer.
Access to and use of the Internet may require payment of a separate fee to an Internet Service Provider.
Wireless capability may require a network connection, additional accessories, and/or a service connection fee.
Use of Bluetooth technology may require Bluetooth software and compatible accessories.
Includes 16GB Wi-Fi iPad mini with AC adapter/USB cable, USB extension cord, Bluetooth keyboard cover, car charger, stand, protective neoprene case, stylus/pen combo, headphone splitter, earbuds, Zinio $100 offer, Premier Tablet Support, $50 Printer Pix voucher
iOS 6 (free upgrade to iOS 7)
Dual-core Apple A5 processor
7.9" diag LED-backlit multitouch display with IPS technology, 1024x768, fingerprint-resistant oleophobic coating
802.11a/b/g/n
Bluetooth 4.0
5MP rear-facing iSight camera with auto focus, face detection, tap to control
HD 1080p video recording with video stabilization, face detection, tap to focus
Front-facing FaceTime camera with 720p video, video calling over Wi-Fi, face detection, tap to focus
Built-in speakers/mic
Ambient light sensor
Built-in lithium-polymer battery
Lightning dock connector port
Stereo headphone mini jack
Approx. measurements: iPad mini 7-7/8"L x 5-1/4"W x 1/4"D, weighs 11 oz; keyboard 7-7/8"W x 6-1/8"L x 3/4"D, weighs 9 oz
UL adapter; 1-yr LMW
Imported
Reviews & Community QA
Apple iPad mini 16GB WiFi w/Keyboard, Case & Lifetime Tech Support
76
76
What a let Down
When I first got it I thought the battery took a long time to charge. Today it will not turn on at all even with it plugged in. The only good thing is that it happened within the return period and I can still send it back to QVC.
01-26-14
Worst purchase ever
I got this I pad for Christmas and I couldn't get any tec support for it I had to figure it out on my own Then the battery started having problems I called 3 Square and all I have gotten is the run around they say they can't find a record of the purchase I never received The LifeTime Tech Support tri fold Brochure . This was supposed to be a new item but it acts like a reconditioned item . the battery wont charge I have had problems with turning the ipad off and other problems with it would I buy another one no way this is a piece of junk if I knew some one was buying a tablet for me for Christmas I would have told them to buy me a Kindle fire instead of this piece of junk
01-22-14
Good product, poor tech support
Loved the size & weight of the iPad mini. Was drawn to the accessories mainly b/c of "fat fingers" when trying to type on a touch screen but after just a day or two, I had no need for the keyboard. Unfortunately the tech support was not good. I couldn't get through the first two times I called. On the third time I was told the next available person would call me back. 5 hours later the call came and the person had no help to offer, kind of shrugged his shoulders and said he didn't really know what was wrong or how to fix it. Felt like I paid a premium for that tech support and was not going to get my money's worth so returned the iPad.
01-08-14
Best Christmas present
LOVE IT! And the easy pay option was the reason we bought from QVC!
01-08-14
MINI IPAD
I PURCHASED THE MINI IPAD. MY COMPLAINT IS THAT I HAVE USED THIS VERY LITTLE AND HAVE NOTICED THAT THE SCREEN IS SCRATCHED IN MANY PLACES. GREAT VALUE! AND THE EASY PAY WAS WONDERFUL!
01-01-14
love the ipad
my problem is finding the correct zinio voucher site any ideas???? iam not seeing log in button .
01-01-14
Hubby Loves it !!
I got this for my husband for Christmas and he loves it. We were able to set it up fairly easily. This is our first Apple purchase. We are smart phone users so perhaps that is why we sailed through the set up. We did refer to the instruction sheet for the Bluetooth keyboard. Once we followed the instructions, we quickly had the keyboard paired with the ipad mini. I recommend this item.
12-26-13
Great Tablet
The mini is a beautiful tablet. The screen is nice and the size and weight are perfect for reading, or reading at the gym, when you need a hand free. The accessories are nice and enhance the value of the tablet. You can use it from day one without worrying about dropping it etc... Apple's quality of build and ecosystem are second to none and will serve you well for several years, with good resale. We plan for two more of these over the next month or so, so that literally everyone in our house has one.
12-22-13
Ipad mini
The Ipad is ok it just does not work with the programs I need to work with. As I was reading the other reviews a saw the showcase for it. I must say the QVC never said the accessories or the lifetime tech support are apple products so there is nothing misleading there. Most of the stuff it came with the mini I don't have a need for them. I would just recommend the ipad mini itself but not this whole setup.
12-20-13
Great for On-the-Go
I wanted the Mini IPAD for travel outside of the US. I currently had been using an IPAD and thought the Mini would be a step in the right direction for light weight portability. It is a great tool for communications and use of all the apps on the IPAD. However, I was disappointed with the picture quality compared to its big brother IPAD. I failed to review the camera specs for my specific needs. The mini produces wonderful close range pics, but it just does not have the power for the distance shots that the IPAD has. All in all I am very pleased with my purchase and the mini goes with me daily for all of my communication needs...along with my small Cannon for those memorable travel shots.
12-20-13
Ipad Great, Accessories Not
I like the Apple iPad mini very much and use it daily. It is easy to set up, operate and transport. I did also use the Zinio subscription without any difficulties. I set up the keyboard without problems and do use it occasionally. The accessories are nothing special, just basic, and not worth the $100+ tacked onto the overall price. Had I been thinking, I would have just picked up the same iPad at Wal-Mart for $299. I am not going to return and just cut my losses. I have gotten great buys from QVC over the years and can live with this one.
12-18-13
Great Present!
I finally broke down and bought my Dad an iPad. He said now I know what all the fuss is about. He has enjoyed other tablets over the years but they don't compare to this Apple product. He had nothing but positive things to say about it. I have prompted him to be sure that he likes it reminding him we have until the end of January to return, but he's keeping it. A very happy iPad user now!
12-17-13