Apple iPad 32GB WiFi/4G 4th Gen. with Retina Display & Keyboard Case
6 Easy Pay Expires 3/24/14 @11:59 PT
In Stock
Sold Out
We're sorry. This item is not available at this time.
Pre Order Possible .
Low Stock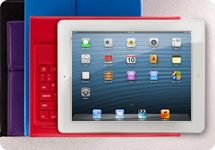 The Hottest Gift of the Season
Description
The wait is over. The 32GB Wi-Fi/4G 4th Generation Apple iPad(R) packs a plethora of cutting-edge updates--a breakthrough Retina display, 5 megapixel iSight camera, and ultra-fast Wi-Fi--into a super-sleek, portable, and user-friendly package you'll absolutely love.
What makes the new iPad so special? Just swipe your hand across the 9.7" diagonal LED-backlit display to check email, create documents, watch videos, listen to music, surf the Web, and more. It's treated with an olephobic coating to resist fingerprints. The text is razor sharp; colors are vibrant; and photos and videos come to life with rich detail.
What can it do for me? 4G and Wi-Fi capabilities provide access to more than 275,000 apps. Get the weather, news, scores, and stock updates instantly; check your Facebook and Twitter accounts; map your next road trip; track your workout progress; and find a recipe for dinner--all within minutes.
And, with the included accessory kit, you're ready right out of the box:.
Free up valuable screen space and enjoy the familiar feel of typing using the Bluetooth keyboard. Hit the road with the convenient car charger. A screen protector and clear TPU case help protect your investment while two stylus pens make navigation a breeze. The stand lets you use the iPad on a tabletop. And with the ear buds and headphone splitter, you can enjoy--and share--the sounds.
What's in the box? The 4th-generation 32GB Wi-Fi/4G iPad with AC adapter and USB cable, Bluetooth keyboard case, screen protector, two stylus pens, car charger, earbuds, headphone splitter, clear TPU case, and a stand.
Access to and use of the Internet may require payment of a separate fee to an Internet Service Provider.
Wireless capability may require a network connection, additional accessories, and/or a service connection fee.
Use of Bluetooth technology may require Bluetooth software and compatible accessories.
Manufacturer specifications are subject to change without notice.
Includes 4th-generation 32GB Wi-Fi/4G iPad with AC adapter and USB cable, Bluetooth keyboard case, screen protector, two stylus pens, car charger, earbuds, headphone splitter, clear TPU case, and stand
4G service provided by AT&T (data plan sold separately)
iOS 6 OS
32GB memory
Dual-core Apple A6X processor with quad-core graphics
9.7" diagonal LED-backlit glossy widescreen multi-touch Retina display with IPS technology, 2048x1536 resolution, fingerprint-resistant oleophobic coating
Built-in 802.11a/b/g/n Wi-Fi
Bluetooth 4.0
5 megapixel rear-facing iSight camera
HD 1080p video recording with video stabilization, tap to focus
Front-facing FaceTime camera
Built-in speaker/mic
Photo/video geotagging
Digital compass
Accelerometer
Built-in Siri app
Built-in lithium-polymer battery
Lightning dock connector port
Stereo headphone jack
Measures approximately 7-1/4"W x 9-1/2"L x 1/4"D
UL listed adapter; 1-year LMW
Made in China
Reviews & Community QA
Apple iPad 32GB WiFi/4G 4th Gen. with Retina Display & Keyboard Case
14
14
great purchase
Love my new ipad 4th generation it came exactly how it was described. The keypad wad a smart choice, this ipad wad an upgrade I gave my ipad2 to my 9yr n he loves it. The accessories r great as well.
10-02-13
sim card alert
Love my Ipad 4, it's been iife changing! easy to use,, love camera, am using the accessoires that came with it from qvc and they've been fine. Never even took case with keyboard out of the box, use siri or stylish. Yesterday I went to AT&T store as I remembered host saying 'these had to have 4g done via AT&T" I didnt understand why at the time. But after a long wait due to iphones going on sale this week I got a sim card from the store. Going on a trip and didn't have time to have one mailed. when I went to put it in - there was already one from At &T in my Ipad. So now it all makes sense. Check your ipad to see if they pre-installed a sim card for you - will save you some time. Thanks QVC the easy pay made it possible for me to buy this.
09-23-13
Enjoying IPAD
Good product. Easy pay helps make it affordable. Think I ma go with tablet next time though. Don't like that you cant use a thumb drive or sd card with it. Overall, happy with purchase.
08-08-13
Fantastic Buy
Received my iPad 2 days ago fantastic buy God bless QVC for making it easy pay. The picture quality is perfect, and the device is soooo easy to use, no instructions are needed even if your technically challenged, i have already uploaded a number of free books ,however my only complain is the charge cord is very short so you will need an extension cord while charging your device. I just love this device!!. As soon as this is paid off,i will purchase another one as a gift for a family member (hopefully it will be on easy pay at that time) .WIFI/ 4G is the best way to go especially if you travel internationally. Thanks a million QVC.
07-31-13
Should have bought one sooner!
Love my new iPad! I never would have been able to get one had it not been for qvcs easy pay!!
07-25-13
Most Affordable Purchase EVER!
I have been eying this item for months, but it just was not in my budget. Thanks to QVC and their knowledgeable staff, I was able to purchase my dream product and accessories at an affordable price. I am dancing everyday at church, finding my scriptures faster and reading the bible more. Tons of games for my children, and picture storage for the entire family. Thank you QVC.
07-09-13
Excellent right out of the box
I'm writing this review because I had such a different experience than some of the nay sayers. My iPad was great right out of the box. There were no instructions but none were needed. Set up is easy and step-by-step instuctions were on the screen when I turned it on. My keyboard also works great and paired easily with the device. It did take me just a minute to realize the "on/off" switch was on the side and not push button on top (duh). There are a few accessories that I probably will not use but the main ones are great. Worth every penny and the ez pay makes it affordable for me. Thanks, QVC!!
06-13-13
Wow
I received mine about 2 weeks ago, I love this apple. Apple did it again it is so much better then what's out there, the screen colors are beautiful is fast and so easy to use. Thank you QVC. I have been wanting one for a long time but worried about the price. But ones I got it in my hands I forgot all about the price is so nice. Plus easy pay really helps, thanks!
06-07-13
Good product...but...
Received this iPad 2 days ago. I must say I was a bit surprised to open the box and find there were absolutely no instructions included. Thank goodness I work with computers everyday.The quick start up was a joke. How long do you charge? How does it turn off and on? How do you navigate? If you are not computer literate, forget it. Most questions have to be answered via utube which is Joe down the street talking about the product. I am shocked that Apple has such poor customer service. Called about one issue and was hung up on because they did not have an answer. Cannot recommend because of poor customer service. I agree that the keyboard is a joke. No tech support on that either. Leave it out of package it is worthless.
06-01-13
Mostly Amazing
The iPad is awesome, as you'd expect. Most of the accessories are great. However the keyboard is cheap and the case is bulky. I went out and bought a smart case immediately and I've yet to even bother messing with the keyboard again. But like I said, the iPad is worth every dime.
05-11-13
Love it!!
Love the iPad . Bluetooth keyboard is great but it does have a problem. Charger cord to it is short. It way to short to use. I had to get extension to get it to my computer to charge it at same time in charging my iPad. All the other items are great and useful..
05-01-13
Just drop the keyboard, please
This was Christmas gift. Can't use the keyboard because the USB does not fit in the port. Cheap accessories. However, the iPad itself is fantastic. I'm surprised Apple let you sell their product with such a bad accessory package.
04-22-13