Apple iPad 2 16GB WiFi with Color Keyboard Case & Accessories
In Stock
Sold Out
We're sorry. This item is not available at this time.
Pre Order Possible .
Low Stock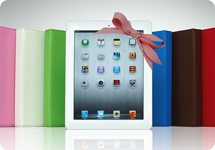 Description
Get a head start on your holiday shopping with the gift that's on practically everyone's wish list, the Wi-Fi-capable Apple(R) iPad(R) 2 16GB!
Why an Apple iPad 2? It has everything you need! The innovative 16GB iPad 2 is more powerful than a smartphone and more portable than a computer. And, with the included Bluetooth keyboard portfolio case, you'll be able to bring the tactile feel you love to your tablet, so you can see and do more while typing.
Is it easy to use? You bet! Just swipe your hand across the 9.7" diagonal LED-backlit display to check email, watch videos, listen to music, surf the Web, and more. The split-screen view and expansive keyboard provide spacious areas to type and navigate.
Why should I choose Wi-Fi only? Besides the lower price--there's no contract! Simply connect to the Web wherever there's an available wireless network. Why pay for a service plan if you don't really need it?
What can I do with it? Just about anything! Wi-Fi capabilities provide access to more than 200,000 apps. Get the weather, news, sports scores, and stock updates instantly; check your Facebook and Twitter accounts; map your next road trip; track your workout progress; and find a recipe for dinner--all within minutes.
What's in the box? Your Wi-Fi capable 16GB iPad 2 and an AC adapter. You'll also receive an accessory kit to complete your iPad 2 experience. Watch movies, TV shows, and clips hands-free with the included stand. Rock out to your digital tunes with the in-ear buds and share the music with the headphone splitter. And, a variety of other helpful accessories ensure you make the most of your iPad 2.
Access to and use of the Internet may require payment of a separate fee to an Internet Service Provider, DSL line, or more.
Wireless capability may require a network connection, additional accessories, and/or a service connection fee.
Use of Bluetooth technology may require Bluetooth software and compatible accessories.
Includes 16GB Wi-Fi capable iPad 2 with USB charging cable, AC adapter, Bluetooth keyboard portfolio case, stand, 2-in-1 pen stylus, headphone splitter, earbuds, USB extension cable, car charger, and $100 Zinio Digital Content Card
16GB storage
1GHz dual-core A5 processor
iOS 5 operating system; can be upgraded to iOS 7 for free
9.7" diagonal LED-backlit display with IPS technology
Front camera: records VGA video/still images
Back camera: 720p HD video recording at up to 30fps/still images, 5X digital zoom
Built-in 802.11b/g/n Wi-Fi
Bluetooth wireless technology
Approximate measurements: iPad 2 9-1/2"H x 7-1/4"W x 1/4"D, weighs 1.33 lbs; Closed, keyboard case 8"W x 9-7/8"L x 1-1/8"H; Open, keyboard case 21"L x 9-7/8"W x 1/2"H
UL listed adapter; 1-year Limited Manufacturer's Warranty
Made in China
Reviews & Community QA
Apple iPad 2 16GB WiFi with Color Keyboard Case & Accessories
54
54
Worth every penny!!!
I love this iPad! Great product and love the accessories it came with. I also enjoyed the zinio magazine offer. Thank you qvc for making it easy for me to purchase this on the six easy payments! If you have been wanting an iPad this is the one to get. It is very easy to use. I got the black and is great to watch movies on also.
04-02-14
Keyboard not good
Keyboard did not last a month and the connection broke. IPad great.
03-25-14
key pad
Key pad doesn't work,has never worked!I would not recommend buying the keypad!
03-07-14
not a good item or value
I was not that familiar with Ipad and when I got it and realized this was an Ipad 2 and not the latest Ipad I was disappointed. It only had WIFI and no 3G. I thought it would have 3G because they showed that you can use it anywhere and that was not true. It was expensive and the accessories were awful. I decided to return it immediately. I would suggest anyone buying electronics be careful and make sure you know exactly what you are getting.
02-09-14
Not what I expected..
To date, I have not been able to use the keyboard case. I would have expected a better quality product to be placed with the Apple brand. I am very disappointed. I spent too much money on this product to have issues. I am still figuring out how to use my ipad. However, I don't have issues with the iPad itself. I love the use of the WiFi connection. Very easy and affordable.
02-01-14
Not as Expected
What a big disappointment... Accessories not Apple, keyboard was useless, could have bought a newer model for $200 less! Just hope that this gets back to QVC before the 31st so I can get a refund. I should have opened the box when I first received, but didn't because I was waiting on my daughter to arrive this month and give as a Christmas present instead of mailing it to her.
01-28-14
Returned mine.
First; I thought it was the latest iPad, but iPad3 was out, and now, iPad Air. This one is 3 years old. I found the keyboard to be too floppy for my situation. I was not aware that Tech Support was in India; nor that the accessories are not Apple. For me, it was not a good value.
01-17-14
So disappointed with this ipad package
Got it for my daughter who is using computers since pre-school and all through High school, University and Law school.... NO ONE could get the included keyboard to work.. No one... She told me Thanks but NO Thanks... That I can get her just an iPad with out the "Bloat ware" that does not work... QVC please sell the iPad by itself....
01-04-14
IPad Great, Rest is Useless
I really wanted my husband to have an IPad to help with his work. The IPad it's self is great. Does everything you can imagine and/or want it to. However, all of the additional items are pretty much useless. The IPad it's self has a keyboard built into the tablet. The cover with the additional keyboard just gets in the way It's bulky and cumbersome. . I feel I paid way to much but consider it my fault. I didn't do my research. If you want an IPad, get one that doesn't have the extras that you never use. I would not recommend this package to anyone.
12-16-13
Luv QVC & IPad too!
I luv QVC.....they have been good to me for many years! I love this IPad too!! Could of been priced cheaper for this older model ,but beats running around or ordering on line from someone who doesn't stand behind their products. Love the case and with the magazines, it was worth it for me, personally.
11-29-13
Just Average
Ipad was ok but the accessories were junky! The keyboard wouldn't work and I never even took most of them out of the box. The pen was nice though. I loved the blue case with the black as it matched my football team colors. I found a better deal for $100 more so I went for it.
11-22-13
Disappointed
I wanted an ipad for a long time so I was really excited to get what I thought was a good deal. Upon receiving, I took it to the at&t store to add it to my wireless plan only to find out that I couldn't. they said it wasn't network compatible and I could only use it at places that have Wi-Fi. I didnt know there was a difference. Kinda defeats the whole purpose so it went back.
11-10-13