Apple 32GB iPod touch Essentials Plus 13-Pc Accs. Kit w/Zinio$50Value
In Stock
Sold Out
We're sorry. This item is not available at this time.
Pre Order Possible .
Low Stock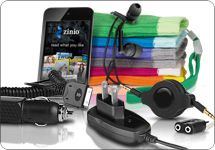 Bundle Up This Season
This Accessories plus iPod touch® (4th Generation) gift takes fun to the max!
Description
Tap into it. The fourth-generation 32GB Apple iPod touch lets you listen to music, watch movies, surf the Web, play games, and more. Also included is a value-packed array of accessories, so you have everything you need to make the most of your iPod touch right out of the box!
With its massive 32GB internal memory, this handheld companion holds an amazing amount of media--up to 8,000 songs, 40,000 photos, or 40 hours of video.
Using the stunning 3.5" diagonal Retina touchscreen display, you can easily browse the Web, send email, update your online profile, download games, and chat via instant messenger thanks to the built-in Wi-Fi connection. You can even record 720p HD video!
The incredible FaceTime feature lets you keep tabs with friends and family all over the world with video calling. There are also two built-in cameras, one on each side of the iPod touch; the front camera has been tuned for FaceTime, so it has the perfect field of view and focal length to focus on your face at arm's length--ideal for snapping shots with friends.
The accessory kit is loaded with tons of cool stuff that makes enjoying your iPod touch so simple and convenient. There's an AC wall charger and a car charger to keep the iPod juiced at all times, a retractable audio cable, and an audio splitter that conveniently plugs into the included headphones. Plus, six different protective socks with lanyards and screen protectors keep your new gadget safe and sound. On top of all that, there's a Zinio gift card, which lets you download digital magazines to read right on the iPod touch!
Wireless capability and use of public wireless locations or hot spots may require a network connection, additional accessories, and a service connection fee.
Access to and use of the Internet may require payment of a separate fee to an Internet Service Provider, DSL line, or more.
Use of Bluetooth Wireless Technology requires Bluetooth software and Bluetooth-compatible accessories. Additional accessories may be required.
Includes 32GB iPod touch with in-ear headphones and USB cable; six multicolored protective socks; six multicolored lanyards; two screen protectors; AC wall charger; car charger; retractable audio cable; earbuds; audio splitter; and Zinio $50 value offer, which lets you download select digital magazines
32GB internal memory
Supports AAC, Protected AAC, HE-AAC, MP3, MP3 VBR, Audible (formats 2, 3, 4), Apple Lossless, AIFF, WAV files
3.5" diagonal Retina touchscreen display with 960x640 resolution
Built-in Wi-Fi
Bluetooth 2.1+EDR wireless
FaceTime; two built-in cameras
720p HD video recording
Photo/video geotagging
Maps location-based service
Built-in Nike + iPod support
Built-in rechargeable lithium ion battery
Two-hour fast-charge time; four-hour full-charge time
Up to 40 hours of music playback/up to seven hours of video playback on full charge
USB 2.0 port
iPod touch measures 4-1/2"H x 2-1/4"W x 1/4"D
UL listed AC charger; 1-year Limited Manufacturer's Warranty
Made in China
Reviews & Community QA
E168170 - Apple 32GB iPod touch with 13-Pc. Access. Kit &Zinio $50 Value
55
55
Husband loved this gift!!!
I had bought this gift for my husband and he loves it!!!! Best purchase and at an exellent price for the 32gb iPod. I wish I had bought myself one but, they are all sold out of this one in the 32gb. He enjoys it and says that it holds tons of pictures, music and aps. We are both very satisfied.
11-18-12
Ipod Touch
This ipod works great. I use it everyday. The battery lasts for a long time. The only thing that wasnt great was the headphones it came with.
08-28-12
It has me hooked:)
I am not tech savvy, so I had this shipped to my daughter's house while we were on vacation. My 11 year old granddaughter took it and had it set up for me within a few minutes. I love this iPod. I use it daily and I absolutely love being able to facetime with my family. It makes you feel like you aren't so far away. I had so much fun with my granddaughter while setting it up. Kids are so smart and capable. If I have a problem, I just call her and she tells me what I need to do.. I encourage anyone to buy this product. It is fabulous!! I'd give it many more stars if they were available. Thanks QVC for the great deal!
08-09-12
WOW!!!!!!!!!!!!!
Absolutely amazing piece of electronic equipment. I hesitated to purchase it and when I saw the easy pay, I jumped on it as a treat for my birthday and I am NOT disappointed. It's worth the money. This size is the same price in their retail store and for once the "extras" are actually useful. The car charger and wall chargers are simply amazing!!! The little socks are handy for storage. Great job with this on Q!!!
06-29-12
So Happy!!
I recieved my iPod today and can't wait to get home and get it synced. This is a replacement for one that was broken during a power surge. While I appreciate the 13 piece accessory kit, it is basically unnecessary. I don't think the sleeves will protect the device if dropped. I would prefer to spend the extra money and get a shock absorbent case. As for QVC, I was glad they finally had the 32gb on a payment plan. I am thrilled!
06-22-12
Great Product and Value
Love my new iPod! Works great and makes my daily commute to work enjoyable since I listen to the music I want to hear. Accessories are also a great value. You will be very happy with this purchase!
06-10-12
Super item
Decided to upgrade from my 2nd. Generation to the newer 4th one. This is the best thing I have done. I love the camera and all the new things this iPod can do. The setup was easy too. And the flex pay made it easy to purchase.
06-09-12
Absolutely Fantastic!
So I have been wanting a newer generation ipod for awhile now. And I have been browsing here off and on. I decided one night I was going to just go with the 8gb one...then something told me to scroll down and I did...I found this one and I was in love because it was the same price as the Apple store's 32gb with easy payments. I couldn't beat that. I bought it that night. I got it that Thursday and it barely leaves me. I take it EVERYWHERE. I absolutely love this ipod and it makes me really happy to finally have a new model of it with lots and lots of space. I already have a small ipod nano I had gotten as a gift for all my music...this one is for my apps and everything else. This is a great steal and worth buying!
06-07-12
Excellent Value
I purchased this for my son's graduation and he has not put it down since! He loves it and all of the accessories that came with it. I shopped around and this is by far the best value and the product quality and brand is superb!
06-06-12
Apple is the byte
I got the IPod touch for my husband for an early fathers day gift and he LOVES IT! Does not put it down until bedtime and even then it's not far. Gotta get it.... And he's in his late 40s. Apple truly brings out the kid in all. And thanks to QVC for the special pricing. I sure hope this is a great start to a relationship with Apple and QVC. Computers here they come! Thanks QVC
06-05-12
Not Happy AT All
I was excited to see the clearance price for the iPod touchdecided to purchase it as I've been wanting one for awhile now. When I placed my order on a Sunday and got it that Wednesday I was absolutely thrilled; after all, this was my first iPod ever. This is were everything went down hill fast. First, there was a problem setting up the iPod that required the tech support team at Apple to assist with over the phone. Not sure if this issue was caused by my computer which is new and was also purchased from QVC last year or the iPod. The next problem was that the iPod battery started to empty out very quickly. The first time after I fully charged it (the day after I got it in the mail) and used it to listen to music for about an hour (and only music-no games or anything else) the battery was 1/3 empty! I hoped it was maybe something I was doing wrong but no...it was the iPod. So after having it for 11 days and not even trying to use it for most of those days I had no choice but to send it back for a replacement. I would love to have been able to comment on the features of this product but I never really got a chance to see what they were. I am very disappointed with my purchase.
05-30-12
Best Price Ever!!
We bought this for my daughters birthday gift and it of course is amazing as any other Itouch but what I want to talk about is the cost!! Qvc offers the best price with accessories and a bonus $gc ... The fact you can split it up on easy pay is even better!! Been a Q shopper for many years and this I one of the many reasons I chose them over a retail store:) thanks QVC for allowing customers great items no hassle returns and easy pay option!!!
05-29-12