Anthony Robbins Ultimate Edge Personal Achievement System
In Stock
Sold Out
We're sorry. This item is not available at this time.
Pre Order Possible .
Low Stock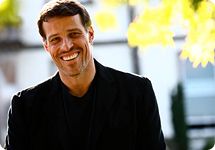 Click on the links below for an introduction to Tony Robbins and his program.
Description
Welcome to Anthony Robbins Ultimate Edge. A 3-part system for creating an extraordinary life in any environment. Ultimate Edge is a powerful multi-media experience created by Tony Robbins to intensify your life's successes and jump-start your goals and dreams.
The Get the Edge! seven-day audio program aims to help build momentum, develop relationships, capitalize on opportunities, and become more inspired in everyday life.
Personal Power Classic is a 7-day audio program to help turn dreams into reality. Complete goal-setting workshops to focus on what you want most in every area of your life, accelerate the pace of your success and learn to understand human behavior and the six human needs.
Inner Strength is a 7-Day audio/video program to help uncover and resolve what's holding you back and move you in a direction to achieve results.
Power Talk Audio Magazine is an inspiring, high-energy interview series with Anthony Robbins offering you powerful ideas and strategies to use in your own life. The two featured interviews are Dr. Wayne Dyer and William Strouse.
The New Money Masters Program, featuring Frank Kern, is a new program aimed at financial and business matters. Watch interviews of others who came from humble beginnings and went on to achieve great success.
Additionally, the personal journal, online personal profile, and free coaching strategy session will help you follow through with the strategies and ideas employed by Anthony Robbins in his programs. You'll also get a $100 discount toward any Anthony Robbins event!
Access to and use of the Internet may require payment of a separate fee to an Internet Service Provider, DSL line, or more.
Includes:
Ultimate Edge Inner Strength (five CDs, total run time 5:34:07; two DVDs, total run time 2:30:06)
Ultimate Edge Personal Power Classic (seven CDs, total run time 6:01:48)
Ultimate Edge Get the Edge (eight CDs, total run time 9:16:15)
Two Ultimate Edge personal journals
Power Talk! Transformation: The Power of Expanded Identity (two CDs, total run time 2:09:47, Power Talk companion book)
Power Talk! The Ultimate Resource (three CDs, total run time 2:52:21, Power Talk companion book)
The New Money Masters The Web's Best: Frank Kern Audio CD (one CD, run time 76:48)
The New Money Masters The Web's Best: Frank Kern DVD (one DVD, run time 1:17)
The New Money Masters The Web's Best: Frank Kern Action Book
Free personal online profile
Free 30-minute coaching session
$100 Gift for You event coupon
Made in USA