Angelo:Home 3-piece Nesting Ottoman Set
In Stock
Sold Out
We're sorry. This item is not available at this time.
Pre Order Possible .
Low Stock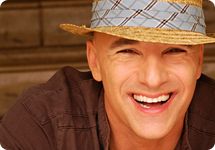 "This is one of my FAVORITE items. I love things that are practical, affordable, and stylish. These ottomans are all of those things. They are large enough to act as seating or as coffee or side tables, and practical enough to nest within themselves for easy storage. A great accessory that can also be a furniture piece for almost any room."
—Angelo
Description
Different accessories, like a trio of ottomans, can change the look of a room. Cocktail tables, foot rests, or occasional seats: these ottomans make a handy addition to any home by functioning as all three. Best of all, they nest for simple storage when not needed.
The small ottoman is covered with a solid, textured fabric; the medium ottoman is covered with scrollwork fabric; and the large ottoman is covered in simulated leather and decorated by a nailhead border. From angelo:HOME by designer Angelo Surmelis.
Includes small, medium, and large nesting ottomans
Measurements: Small 12"H x 19"Diam; Medium 15"H x 23"Diam; Large 18"H x 28"Diam
Spot clean only
Made in China
Reviews & Community QA
H189471 - Angelo:Home 3-piece Nesting Ottoman Set
12
12
Love these! Bring more Angelo products
I ordered the orange print chair for a guest chair in my home office, but bypassed the ottomans originally. Recently I noticed they were on clearance at more than $100 price drop, so I ordered them. They are so attractive! The orange print is beautiful, not at all Florida orange bright, but much more subtle without being sherbet-y either. I'm using the two almond colored ones in the living room; big one is really nice size and covered in a faux leather with nailhead trim. Smallest one is a chenille type fabric that, so far, my cat hasn't discovered. I'm very happy with this entire purchase.
05-21-12
More than expected
Recently purchased the black set. Arrived in a Huge heavy duty box. With free shipping to Hawaii this was an added bonus. Very pleased with the quality and usefulness of each piece..
04-26-12
Beautiful! Excellent Quality
I purchased these in almond to go with chair I bought last year. They are gorgeous and so very well made, just like the chair. I would highly recommend any of Angelo's products, based on the craftsmanship of these items!!!!
04-24-12
WONDERFUL PURCHASE - BOUGHT 3 SETS
I SELDOM WRITE REVIEWS DUE TO LIMITED FREE TIME SO I REALLY NEED TO LOVE (OR HATE) AN ITEM TO BOTHER. I BOUGHT MY FIRST SET OF THESE IN THE FALL IN THE ALMOND COLOR. WHAT A STEAL AT THE CLEARANCE PRICE. THE LARGEST WITH THE NAIL HEAD TRIM IS ALONE WORTH THE PRICE YOU PAY FOR ALL THREE. I HAVE SOME VERY HIGH END, EXPENSIVE PIECES IN MY HOME AND THE LARGEST OTTOMAN IN THE SET IS ONE OF MY FAVORITE PIECES AND IT REALLY HOLD ITS OWN WITH OTHER ITEMS 5 TIMES THE PRICE. LOVE IT SO MUCH THAT I WANTED TO ORDER MORE FOR MY NEW HOME.AS WELL. SINCE I COULDN'T FIT EVEN ONE MORE OF THESE IN MY CURENT HOME, I KEPT WAITING TILL I COULD TAKE DELIVERY AT MY NEW PLACE. IN APRIL, I ORDERED TWO MORE SETS IN THE ALMOND. JUST ARRIVED LAST WEEK AND AS WITH THE FIRST, PACKAGING IS TOP RATE. ITEMS ARRIVED IN PERFECT CONDITION AND ARE AS LOVELY AS THE FIRST SET. I WILL USE BOTH IN MY NEW VERY LARGE LIVING ROOM SIDE BY SIDE AS COFFEE TABLE WITH A TRAY ON TOP IN FRONT OF SOFA AT FIREPLACE. THE MIDDLE SIZE IS GREAT AND UNUSUAL BY THE FRONT DOOR TO PUT PACKAGES DOWN ON AS I ENTER OR TO SIT AND PUT ON SHOES OR BOOTS. LOVE THE ROUND SHAPE. I WILL ADMIT THAT THE COVERINGS ON THE TWO SMALLER OTTOMANS IN THE SET ARE NOT TO MY TASTE BUT WITH SUCH A WELL MADE STURDY BASE THEY WILL BE EASY TO RECOVER IN ANOTHER FABRIC AND TRIM MYSELF. GREAT ADDITIONAL SEATING STORED OUT OF SIGHT UNDER THE LARGEST ONE FOR WHEN NEEDED. ANGELO, THANK YOU SO MUCH FOR THE LOVELY , EXPENSIVE-LOOKING LARGEST OTTOMAN. THEY ADD SO MUCH TO MY ROOMS AND LOOK VERY PRICEY AND UNIQUE. I HAVE OREDERED 3 SETS IN TOTAL. DO NOT HESTITATE. THESE ARE WELL BUILT, COMFORTABLE, ATTRACTIVE, AND WELL WORTH THE PRICE.
04-24-12
WOW!!!!
I received these today and they are beautiful. Very well made and covered with beautiful fabrics.
04-17-12
Wonderful in every way!
These ottomans are well made, beautiful, practical, and expensive looking. The quality is very high. Very versatile, smart, and what a great addition to many rooms! We love it!
02-18-12
Excellent Quality & Versatile
I have had these for some time now and still looks like the day I received them. My 9 yr old Niece &6 yr old Nephew love to play with these when they visit! They do everything from sit on them, roll around on them, stand on them & even squeeze into them to hide!!! If they can withstand this and still look like new, there is no explanation for the 5 star review needed!! Thanks Angelo for a wonderful & affordable product! Love your work ~ have been & will always be a fan of yours! Keep the products coming!!
02-07-12
Perfect In Every Way!
My daughter purchased these for me for this past Christmas! They are perfect in every way! The shape is soft, the fabric is classy and the nesting is key in my small living room. The construction is top rated! My son in law is over 6' and he can sit on them with no problem! Excellent for tables, footstools or seating and they tuck away to one small footprint in my house. Absolutely LOVE them! In fact, another one of my daughters ordered a set for herself after seeing them! She loves hers also!
01-15-12
Beyond practical!
I have been looking for an ottoman for quite some time and happened to see this when Jill showcased it a few weeks ago. I have to say it exceeded any expectations I could have had prior to seeing it and both the desgn and functionality of it are impeccable. Thank you Angelo for a wonderful stylish piece of heaven!
04-20-11
Love Love Love!
These are as stylish and sturdy as Angelo says they are. I ordered the coffee set and was so impressed with the quality and durability. Very comfortable to sit on, as well! Thanks Angelo!
04-19-11
Awesome!!!!
Angelo, thank you for the quality in your ottomans. I ordered the cream/pumpkin. They are the best and so clever. I can use one at a time, two or all three! Now, I have to order the four Davis chairs in cream.. Thanks for all the excitement you brought to my home and QVC. I am nuts about your line. Please bring more.
10-09-10
Absolutely Beautiful
Loved it when I saw it. Adored it when I received it. It has everything, beauty, quality & price. I will be buying other pieces. GO ANGELO!!!!!
10-07-10