Amazon Echo Voice Control Assistant and Speaker with Custom Skin-It
In Stock
Sold Out
We're sorry. This item is not available at this time.
Pre Order Possible .
Low Stock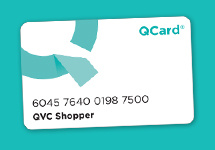 $10 QVC eGift Card Offer*
Get a $10 QVC eGift Card when you purchase this Amazon Echo Voice Control Assistant & Speaker with Custom Skin-It on your QCard®! See details below.
• Don't have the QCard? Find Out More!
• Learn more about this offer here.
Description
Asked and answered. From trivia to traffic to to-do lists, the Amazon Echo personal assistant and speaker has you covered.
Wake up to weather reports, catch up on the news, and get sports scores with Alexa--a cloud-based voice service that keeps learning and adding new features all the time. Pop on a streaming service and enjoy immersive sound from the 360-degree omnidirectional speaker, or ask Alexa to set a timer so you don't accidentally burn the brownies. You can even connect to select Wink, Belkin WeMo, and Philips Hue devices--so you can make lighting changes using the sound of your voice without leaving the comfort of your couch. From Amazon.
Give your Echo a custom look with a Skin-it voucher, and find even more to listen to with the included Audible voucher with two download codes.
Includes Amazon Echo and AC adapter; Skin-it voucher and Audible voucher with two codes
360-degree omnidirectional speaker
2.5" woofer
2" tweeter
Far-field voice recognition with seven-microphone array
Alexa voice assistant
Dual-band Wi-Fi
Bluetooth wireless technology
Voice commands: shopping, alarms, timers, to-do lists, more
Accessible traffic reports, sports scores, news reports
Compatible with many Bluetooth devices, websites, and streaming services; select Wink, Belkin WeMo, and Philips Hue devices
Amazon Echo app compatible with iOS, Android, Fire OS, Web browser; hands-free voice control not available via OS X devices
Approximate measurements: Echo 9-1/4"H x 3-1/4"Diam; Cord 69"L
UL listed adapter; 1-year Limited Manufacturer's Warranty
Imported
Reviews & Community QA
Amazon Echo Voice Control Assistant and Speaker with Custom Skin-It
is rated out of
5
by
15
.
Rated

5

out of

5
by
cdgoble
from
Wonderful Gift
I bought my first one for myself then bought one for my daughter for Christmas. I use this every day. When I leave for the day I tell Alexis to play lullaby music for my dogs. They love it and are so calm.
Date published: 2017-09-20
Rated

5

out of

5
by
dcabb1
from
One of the best purchases yet.
I love Alexa. She is very easy to use and very resourceful. I would recommend to anyone!!!
Date published: 2017-07-13
Rated

5

out of

5
by
cocosmith
from
Amazon ECHO LOVE LOVE LOVE
I had originally purchased the Amazon Tap but found not being hands free wasn't really what I wanted. The ECHO with its voice activated commands works great in the kitchen when your hands are wet or messy, in the bathroom,.I'm anxious to use mine at my swimming pool. Since I don't have to touch it,,it won't get wet. Still learning all the functions. I use weather, music, sports scores, today's news,,and tell me a joke! Great product! Highly recommend! I think a teenager would love this!
Date published: 2017-01-23
Rated

1

out of

5
by
Guccisox
from
Nice if it worked...
We were pretty much happy with the Echo for the time that it worked. Speakers suddenly started to distort and Alexa does not respond. I tried to reset...no success. Sadly, we will have to return this item, which was a family Christmas gift.
Date published: 2017-01-22
Rated

5

out of

5
by
garthevendor
from
Love It
Alexa is the greatest. She has made my life so much easier.
Date published: 2017-01-22
Rated

5

out of

5
by
cook needs help
from
Love my Echo
I received this Echo for Christmas. I love it. My Mother said she hates this new technology. I let her use my Echo and now she wants one of her own. The music quality is outstanding. I haven't started converting my house to a "Smart" house yet but I'm sure if I do it will be amazing. It is worth the purchase just to use for brain games, music and weather.
Date published: 2017-01-17
Rated

2

out of

5
by
scameron
from
Defective -- fun for the two hours it worked
I got this as a family gift for Christmas and set it up a couple of days after Christmas. I loved it....for the two hours or so it worked. I was playing music and suddenly the music volume and quality went down and it started this awful loud buzzing noise. I thought it was an aberration. So tried it again the next day and every time I plugged it in it would make the buzzing sound. I called Amazon and they offered to refurbish it....a brand new product, which I found disappointing as a longtime Amazon customer. I was glad I purchased it through QVC so I could send it back with no problem. I had fun with it while it lasted but am afraid to give it another shot. Very disappointing. Surprising because I love my two Kindles and every other Amazon product.
Date published: 2017-01-15
Rated

5

out of

5
by
Slocochef
from
Excellent
I have been reading on line in some techie 'groups' of the Echo's potential - and the upcoming more pricey one's that will have a nice size screen on them - and I'm blown away .... evidently now and again she's spouting off without a prompt that which was eerie for a few folks ... But I finally decided to open the box today and simply set it up in less than 5 minutes - asked her to play Christmas tunes and WOW - I have not heard the same song for hours - even heard James Taylor sing a carol in French lol... The speaker fills my living room and kitchen fine - and sounds just beautiful - all I need for this size area with really nice quality imho but I'm not a home audiophile... it just sounds great! And I sit here all afternoon asking her to turn it up and turn it down .... just that alone - asking from afar for my music to be turned up on a favorite song - is worth the price of admission to me.... Good sound and obeys how loud my music is and the song choices are astounding - as I'm so new I dunno where the music is streaming from - I have a prime account but never ordered any special music programs before. I got the black and have not read much about the skin choices or anything else like audible books etc... I need to let things settle in a bit - so for now she's my new voice controlled music source and really all I had before was my ipad or cable TV holiday music. I know it's after Christmas but I can't break away from these fascinating restul peaceful tunes .... My pets don't mind her - dogs and a cat - one dog chose to nap close to her twice - bonus no issues there. I also have a Dot .... will probably hook it up for the bedroom to my one Bluetooth speaker as the Dot's can do that where Echo's cannot. If that works as well maybe next month we'll try a few other things - nice to be able to take your time with a great toy that will take a very long time to tire of if ever! I paid $159 a preferred price but not the TSV that had her down to $139 ... now she's $179 and on waitlist - same with amazon - they wont' be in for a couple weeks - totally worth the wait!!! I bought one brother and my dad a Dot as we were all apart for Christmas but those two were gonna visit - both are engineers though my Dad retired - I was told they had a blast and were not bored with them!
Date published: 2017-01-09