Algenist GENIUS Liquid Collagen Auto-Delivery
In Stock
Sold Out
We're sorry. This item is not available at this time.
Pre Order Possible .
Low Stock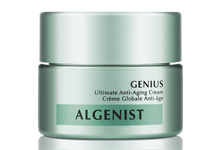 Bonus Item with Purchase
With this Auto-Delivery purchase, you'll receive a bonus 0.5-oz Algenist Genius Cream with each future shipment every 90 days for two years or for as long as you remain in the plan.* Cancel anytime.
*Not included in the first shipment.
Description
Introducing Algenist GENIUS Liquid Collagen. Created using patented technology, this liquid formula contains alguronic acid--a unique, naturally occurring compound plus microalgae, microalgae oil, niacinamide, vitamin B3, peptides, and collagen amino acids. And with this Auto-Delivery plan, you'll receive a new shipment approximately every 90 days for two years.
In a survey,
--91% of women agreed Liquid Collagen helps with bounce, resilience, and suppleness of the skin after 10 days
--89% of women agreed skin's radiance was visibly improved after 10 days
--88% of women agreed Liquid Collagen helped reclaim skin's youthful radiance after 10 days
How do I use it: Unscrew cap and remove dropper from bottle. Push dropper button fully a few times. Hold down on button while inserting back into bottle. Release button to allow dropper to fill up fully. Remove and push down to dispense. After cleansing and toning, apply to entire face, neck, and decollete.
From Algenist.
Each shipment includes 1-fl oz GENIUS Liquid Collagen; shipments arrive approximately every 90 days for two years
Future shipments only include 0.5-oz GENIUS Cream
Each shipment will be billed separately at the above price, plus shipping and handling and any applicable taxes, for as long as you remain in the plan; no obligation to continue the plan; cancel anytime
Important Details
If you take advantage of both Auto-Delivery and Easy Pay™, it is possible that more than one Easy Pay installment could be due in the same month. For example, if your Auto-Delivery plan ships every three months and you select 4 Easy Pay installments, you would pay the fourth installment of your first shipment in the same month you pay the first installment of your second shipment.
Reviews & Community QA
Algenist GENIUS Liquid Collagen Auto-Delivery
is rated out of
5
by
56
.
Rated

5

out of

5
by
Madelia Fairmont
from
Good stuff
I've been using it for about a month almost daily (missed a couple of days) and I see real results in the lines that run diagonally from my nose to my mouth and also in the lines above my lips. I'm 66 years old and I can attest that this stuff really works. Glad I'm on auto-delivery. I haven't had any trouble dispensing it -- if you follow the directions in the video exactly, no issues (although I have had problems with other Algenist products and sent them back). I don't have any trouble believing this bottle will last three months.My other go-to's are Dr. Perricone and I'll stick with that line but I've added this. It IS genius.
Date published: 2018-01-16
Rated

1

out of

5
by
slhtrailblzr58
from
1 Month - Nothing - 59 Years Young
Hello - Before I wrote this review I wanted to make sure that I gave this product enough time. They claim that I should see something in 10-12 days. I still see nothing. I'll give anything a shot, but for the price, this product won't make it till March, and I am canceling my auto delivery. I would not mind paying a high price for an item that delivers. But, the one question that always comes out and I tell QVC - if this product works so well, why not have the individual that is selling this product, show a before and after of themselves. Show what it has done for them. Proof will be in the pudding. Certainly any of the reps and hosts all have wrinkles - lets pull the cameras in just a bit closer for a viewing. I do hope that this review posts. If not,............disappointed.
Date published: 2018-01-05
Rated

5

out of

5
by
mntngirl
from
Plump Your Skin!
I have tried this for over a month and I can't say enough good things about it. I do believe it is seriously plumping and refining my skin. I love it so much I put it on the back of my hands (really notice improvement on my hands!) and on my neck and chest. love love love this. It goes on smoothly and accepts moisturizer after this product application very well. I do go through this quite fast because I use it so much. I'm hoping the price will go down because it is pricey. I have two orders on auto-delivery right now. On the topic of the applicator, what is all the fuss about??? It is simple to use, dispenses easily, and you see exactly how much is left in the dropper AND IN THE BOTTLE. How many products can you see exactly how much is in the bottle initially --and to the end??? Not very many. And you can get 100% of the product out of the bottle if you take a tiny paddle to remove the very small amount the dispenser can not reach. It does not become separated or changed in any way as you use the product, which you can visually confirm. Just follow the directions of pulling out the top/plunger, then depressing the plunger, then inserting the top/plunger into the bottle and release. The product sucks right up into the stem of the plunger. Voila! No big deal.
Date published: 2018-01-05
Rated

1

out of

5
by
MsWoody
from
Not for Me
Not sure why this is good. Have been using it for two weeks now and no improvement on my skin. The delivery pump needs improvement! Peter Thomas Roth Retinol system is still the Best.
Date published: 2018-01-03
Rated

3

out of

5
by
SPUD
from
disappointed
I like the product a lot but- I used the properly measured dose two times a day and it didn't last a month. The end of the bottle won't suck up into the stopper. It is too expensive to only last three weeks.
Date published: 2018-01-03
Rated

2

out of

5
by
Anonymous
from
Not a Happy Camper
I totally agree the delivery system needs to be addressed. I am 3/4 of the way thru with the serum and I can't get it to flow. I have worked with this after the first week with issues. I will be cancelling my auto delivery. I will also be returning the balance since I can't retrieve it. At this price you would think they would have thought this through a lot better...
Date published: 2017-12-31
Rated

3

out of

5
by
FlynnFarm
from
Dispenser Difficult
I have been more than patient with the delivery system of this product. Very seldom does the serum fill the applicator. It takes 3 to 4 tries to get just enough to cover my face and neck. It's only half gone and now almost impossible to get it out. I like the way it makes my skin feel, but it does need to dry down before using any other products. I'm getting aggravated with the tedious tries of getting the serum on my face. It is time consuming and I don't have time to waste in the am or pm. I may return, but I'm cancelling my auto-delivery until they improve the application process. Sorry.
Date published: 2017-12-28
Rated

1

out of

5
by
auntgranny
from
Not happy
I see no change in my skin after 3 weeks of use. The plunger needs an overhaul. Directions say this one ounce bottle will last 90 days, I don't see how this is possible, when used morn. and night, I have half a bottle left. It's not going to last 90 days. The product is getting very thick and hard to get out of the bottle. I do not recommend it.
Date published: 2017-12-27