AeroPilates Premier with FreeForm Cardio Rebounder & 2 Workout DVDs
In Stock
Sold Out
We're sorry. This item is not available at this time.
Pre Order Possible .
Low Stock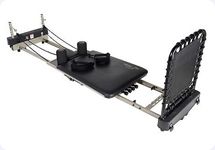 Description
Transform a spare room--or spare corner--into a personal Pilates studio with the Premier Pilates Performer. Allowing for both strength and aerobic training, it performs dozens of low-impact exercises that help you tone and sculpt your entire body. The four-corded machine provides the resistance you need to help build lean muscle, while the free-form Cardio Rebounder acts like a horizontal trampoline for a unique sweat session. From AeroPilates(R).
As always, please consult your personal physician before beginning any diet or exercise program.
Take a realistic approach: If you work consistently and follow the program, you maximize your results.
Includes Premier Performer, Cardio Rebounder, foot bar, level one workout DVD, cardio workout DVD, and full-color exercise wall chart
Four cords for tension adjustments
Folds for easy storage
Supports up to 300 lbs
Assembly required
Run times are approximate: level one DVD 48 minutes; cardio workout DVD 21 minutes
Approximate measurements: Open 86"L x 24"W x 27-3/4"H; Closed 45-3/4"L x 24"W x 9"H
3-year frame Limited Manufacturer's Warranty; 90-day parts Limited Manufacturer's Warranty
Made in China
Reviews & Community QA
F05191 - AeroPilates Premier w/ Cardio Rebounder & 2 DVDs
120
120
Love this machine...but it's defective. :(
I was so looking forward to using this machine to get back into shape and good health. When I received it, the cords were frayed, stretched out and loose. I had to order new cords from Stamina Products and those cords were also stretched out. The frame started to squeak loudly which is very annoying when you are concentrating on your excercises and cardio. It was so loud, I could hear it over my mp3. Then, just yesterday, my cords on my rebounder broke. After I looked at it, the cord is starting to fray all around the rebounder. I noticed that much of the machine was assembled poorly and cheaply. I've only had this machine for two months and have had nothing but problems, mostly with the cords. I'm really bummed, because I have really saw results but have decided to return the machine, it just has too many problems after having it for only two months.
05-17-12
Collecting dust
I really like the idea of it. Problems: I can't handle it alone (even though that was one of its selling points), so I can't use it unless I have help setting it up (not enough room to leave it set up all the time); it takes up more 'exercising' room than I expected; the cords start out even but get out of adjustment over time, requiring lots ot "fiddling" before using. I don't have the proper set up to watch the video instructions while on the machine. Plan your space carefully before investing.
11-15-11
Fabulous Idea, but not in practice
When I orderd this, I was prepared to Love it. The cords attached to the machine never matched up, so one arm was always longer then the other arm. I loved the core work out I received, (except my arms not macthing) but I did not like the videos. The woman begins video 1 with warm up and legs, in sync with what you are doing, then she moves very fast throught the arm and core excercises and you either move very fast as well or lose her. In my opinion the tape should match with what you are doing on the machine. Ultimately, it worked my stomach or core the best, but certainly this is not for weight loss, just light tonining in my opinion. We finally sent the machine back as I did not like having my arms never equal in my workout.
10-05-10
GREAT WORK OUT
I have had the machine two months now, waited to give a review after giving it a true break in period. Arrived quickly and husband had it set up in 30 mins or less! We also purchased the stand and am glad we did, this makes it easy to get off and on. Husband or myself have never taken a pilates class so this was all new to us, we LOVE it! The DVD is easy to follow, a bit fast at times but after a week or so easy to keep up with. We also had trouble with the DVDs not working in our player but they do work on a laptop. Didnt want to use the laptop all the time so we called QVC and Stamina sent out new ones with in a couple weeks and they work fine. We get a great workout and combine this with treadmill everyother day and watching our diet the weight and inches are coming off but best of all we both feel great. Back aches are gone and we can keep up with the grandkids! Would tell anyone thinking of buying this to do so with no reservations.
07-21-10
First time pilates user and I'm lovin' it!
I received this machine and was a bit hesitant about assembling some parts together, but i did it all by myself. Yay! It took me about 45 minutes and then I couldn't wait to try it. I got on it to just get a feel for it and absolutely loved th rebounder. Wow! That rebounder really gets you huffing and puffing and i started to break a sweat. The next day I followed the beginner's DVD at my own pace and it was a bit challenging, but i loved it because your core is always engaged. I felt the stretches in my legs, (quads, hamstrings, calves) and arms (biceps,triceps and shoulders). I was a bit on the fence paying so much for a machine, but i truly think it's a fantastic investment especially if I want to keep my body flexible and taut. You won't regret it!
07-19-10
I like it
This is an easy machine to set up. Took about 30 minutes to do. Very heavy, which is a good. I used the machine a few times before I tore my rotator cup again. Will have to wait till I heal up to use the machine again. I liked it though and would recommend anyone to get it.
07-08-10
GLAD I UPGRADED!!!
I purchased the Aero Pilates Performer in 2008 and upgraded to the Premier this month and very glad I did. The Performer is a good machine but the risers, wider foot bar, larger carriage and fuzzy handles, for me made all the difference. First, the machine quality is absolutely excellent. I assembled it myself in about 30 minutes. The instructions are clear and simple so don't be intimidated by completing the assembly process. Use of this machine is fabulous. My workouts are smooth and I'm finding that performing the exercises are easier using the Premier mostly because of the risers. My DVD's did not play, but customer service at Stamina sent me new ones which work. I have found that if you have a built in dvd player they don't work, but will work in a detached dvd player. The cords will be somewhat tight at first, but will loosen up. The reformer is pretty quiet, but did squeak just a bit but stopped. Hey, it's a machine for heavens sake! I look forward to my workouts and are seeing deeper results using the Aero Pilates Premier. Love the larger rebounder. I have every single DVD that Marjolein has made so I have lots of variety and mix and match my workouts. I highly recommend this excellent product!
06-27-10
A great product
I purchased this reformer at the end of April. Delivery was very fast. Setup was a breeze. Took me a little longer, because I was in the middle of preparing dinner. Had to go back and forth between reformer and not letting my dinner burn. I like to multitask. Anyway, I used it the next day. It was very smooth and I didn't have any problems as stated by other reviewers. I've had back problems due to having the ball of my foot removed. Always on the side of the surgery. Its now been 2 months. My back doesn't have the pain as it did before, and my legs are much stronger. I got on my bike the other day and noticed I could spin at a much higher resistance and for longer duration. I was doing pilates on the ball, so some of the exercises were very familiar to me. I wish I would have not sat on the fence so long before I purchased this reformer. As far as the DVD's go, I've not had any problems with playing them in my DVD. I ride my road bike for 30 min. then I will do pure pilates, and then pure cardio. So, people, get off the fence and get yourself this reformer. You won't be sorry.
06-25-10
Thrilled
I cannot believe the changes I'm seeing in my body after only the first week. Plus, the exercises are calming and make me feel great. I could do this every day for the rest of my life and I wish I'd have bought it ten years ago. The machine is good quality, I will someday trade up for the nicer version, but for the money I am very happy with this one. I do wish it was a bit longer, I am 5'9" and hit the top or the bottom if I extend fully. Still, it's not a big enough problem to recommend it any less. **My DVDs did not work in my DVD player either, by the way. I was able to see them on my laptop, but this is unacceptable and not what I ordered. Customer Service is sending me new ones. They ought to throw some extras in for those of us who are having this problem.
06-08-10
great purchase
I BOUGHT MY PILATES PREMIER AT THE END OF APRIL THE DELIVERY WAS ON TIME EASY TO SET UP. THE ONLY THING THAT WAS WRONG WAS THE DVDS DID NOT WORK. IF ANY ONE ELSE HAS THIS PROBLEM IT IS NOT YOUR DVD PLAYER. I CAN PLAY ANY MOVIES & CDS ON MINE. I HAD THEM SEND ME TWO MORE DVDS ONLY ONE PLAYS THEN BLANK PICTURE. MY DVD PLAYER SAYS CANNOT READ. IT IS THEIR DVDS. THEIR PROBLEM. I WISH THEY WOULD GET THEM FIXED I WANT TO MAKE SURE I AM DOING THE EXERCISE RIGHT. I CAN LOOK AT THE CHART BUT IT WOULD BE NICE TO WATCH THE DVDS WHILE DOING THE EXERCISE. THAT IS WHAT WE PAID FOR. AS FOR WORKOUT IT IS AMAZING.
06-07-10
Very good quality
Very happy with my F05191 aero pilates premier/rebounder. Also purchased the stand and the headrest. The headrest made a world of difference on my neck and shoulder. I use it 4 - 5 times a week , or more. I've been using it for about a month and can definitely see some definition. To answer anyone that has had difficulty with the dvd not working, I had the same problem, so I now play the dvd on my laptop and it works perfectly. Its actually better, because I place the laptop on a small table about 2 feet away from my pilates machine and I feel that its easier to keep up, being closer to the pilates machine and I don't have to have the pilates machine in front of my t.v. I just ordered the level 2 dvd, I like that one the best!
06-06-10
Great Purchase
First and foremost, I ordered this machine May 23, 2010 and the delivery date was set for June 1, 2010. This was the fastest shipment ever!!! It was sitting in my house 4 days later, so much kudos to QVC for that. I am pretty lazy when it comes to exercise and equipment because I tend to get bored quickly and it is not fun. This machine is so fun to use. I am on this thing a couple of times a day. My son who is eight and his father get on it constantly and I am yelling at them to get off just so I can get on it. I already have definition in my arms, legs and abs!!!! The only problem that I have with my order is that none of the DVD's that came with the machine work in my DVD players, but this is so not a deal breaker for me since it does come with a exercise chart. It just looks like I have to purchase a new DVD player because the ones I do own are a little bit ancient. If anyone is sitting on the fence wondering if they should purchase this machine, I say go for it.
06-03-10