Marjolein Brugman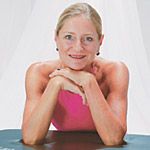 Marjolein began her Pilates training in New Mexico in 1995 and has since then traveled all over the world to broaden her understanding of body mechanics.

Her dedication to the understanding of postural health and whole body fitness plus her vast teacher training makes her an outstanding spokesperson for the Pilates Method.

She was instrumental in producing the first educational advertising about Pilates back in 1997 and has spent the last eleven years demonstrating and educating communities worldwide via workshops and television. Together with Stamina® Products, Inc. she continues to develop affordable Pilates equipment and training videos for home use.
The recent launch of her AeroPilates® Basic Reformer Specialty training through SCW Fitness Education has been received with great enthusiasm by personal trainers, fitness instructors, club owners, and other fitness professionals nationwide.
Marjolein is an innovator in the world of fitness and health and believes that total wellness requires the complete integration of a strong mind, body and spirit. She lives a wholesome life incorporating alternative medicines; eats an organic, natural diet and de-stresses regularly via meditation, massage and rest. With the launch of LighterLiving.com, she has broadened her focus to incorporate the mind, body and spirit with Pilates and as an exceptionally gifted teacher, she shares these special insights with an ever-growing membership that finds her outlook on life to be highly motivational and life affirming. Her goal is to assist in the creation of an independent, well informed and functionally fit world.
"It is a shameful thing to grow old in neglect, without having realized the utmost strength and beauty your body is capable of". —Socrates
Information supplied by Marjolein Brugman