AeroPilates 3-Corded Machine with Rebounder & 4 Workouts
In Stock
Sold Out
We're sorry. This item is not available at this time.
Pre Order Possible .
Low Stock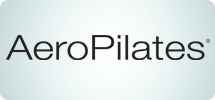 Learn more about this AeroPilates Machine.
Description
Get the body you want, and build strength and flexibility along the way using this AeroPilates(R) machine. The three elastic attachments and an adjustable headrest and foot bar help to ensure proper alignment as you tone your body. Plus, the two DVDs provide easy-to-follow routines so you can stay motivated. From AeroPilates.
As always, please consult your personal physician before beginning any diet or exercise program.
Take a realistic approach: If you work consistently and follow the program, you maximize your results.
Includes AeroPilates machine, two black resistance cords, one red power resistance cord, cardio rebounder, foot bar, Introduction to AeroPilates/AeroPilates Level One Pure Pilates Workout DVD, and AeroPilates Level One Simply Cardio Workout/AeroPilates Level One Integrated Workout DVD, and a 30-day online Jumpstart program
Fits AeroPilates elevated stand for medium machines (QVC Item F8542)
Two-position headrest
Shoulder pads
Rollers for sliding carriage
Nonslip frame caps
Heavy-duty steel frame
Assembly required
Total DVD run time is approximately 102 minutes
Measures 85"L x 24"H x 20-1/4"W; supports up to 300 lbs
3-year frame Limited Manufacturer's Warranty; 90-day parts Limited Manufacturer's Warranty
Made in China
Reviews & Community QA
AeroPilates 3-Corded Machine with Rebounder & 4 Workouts
55
55
Great Machine
I have tried many exercise machines. I have used gym quality machines and this one will definitely give you a good work out. If you use it, it will work.
04-26-14
LOVE IT!
Bought this to workout on and I really like it. I suffer from Arthritis and I needed something I could use that was easy on my joints, but gave me a good workout at the same time! This product is really good and does work me out without causing me pain! Love it!!
04-05-14
Not exactly what I expected
The exercise DVD shows the rebounder easily removed and replaced with the bar, however, that is NOT true. Pause DVD, unscrew, slide off bar, replace rebounder, screw on knobs, un- pause DVD. I like it, but, I don't love it.
03-29-14
Great machine but tough assembly
I was shocked at the assembly process.....lots of loose pieces to assemble - not at all like Marjaline says on the video demo, not very good instructions and much heavier than told it was. Extremely difficult just to get it out of the box.....its taking me two separate weekends to put it together and its not done yet.....hope it works as promised as I've been looking forward to using Pilates for so long before I decided to purchase.
10-09-13
aero pilates
I LOVE, LOVE my pilates I recently purchased. I don't know what took me so long but I can tell you this is one exercise machine that will not be collecting dust. I can hardly wait for the next day to get onto my pilates. Thank you QVC for making it possible to purchase with easy pay. I highly recommend others to purchase. Don't wait!
10-02-13
Lovin It
So far so good...My grandson set it up and said it was an easy setup. I am still on the beginner video and like it says I am taking it slow and easy. Putting 30 minutes on it every day and can already feel the stretching and toning effects.
09-23-13
Look forward to working out!
I have tried at home machines and the gym. This is my first pilates machine and can't believe I have waited this long. Carrying it upstairs wasn't too hard, and I'm only 5 5. Set up was about 45 minutes. Super easy to fold in half, I fold my up daily. I like the fact you are not only working out but streching also. It doesn't feel like a hard core workout, but I am sore the next day. I am super happy with this machine. I look forward to my next workout, to help get in shape, and for overall body wellness.
09-23-13
Cords are fraying
2 of the cords are fraying. You have to unscrew the foot bar to put the other bar on, it is not as it is shown in the video at all, that is misleading. It does give you a good work out. Not sure how long it is going to list with the cords fraying. They must be rubbing against the black plastic washers, which I see no way to stop this from happening. If the cords weren't fraying I would recommend this machine.
09-20-13
Rebounder/footbar change not so simple
This is a nice machine that operates smoothly and without joint stress. It's solid and well made ... BUT the QVC promotional video that shows the user changing from footbar to rebounder just by lifting one out and inserting the other is very misleading. This special price model (which I suspect they're discontinuing) requires that you unscrew two large pressure pins at the base of the footbar ... lift that piece out ... insert the rebounder ... then line up and retighten the two pressure pins ... before you can continue. This virtually eliminates the possibility of doing the integrated cardo workout, switching from strength-building moves to cardio moves. It's a real pain, and I'm having to make up my own workouts to consolidate strength moves, then go on to cardio moves. Mostly I just leave the rebounder in place and use it as the footbar, although it's somewhat higher. Just a heads up to others who may be misled by the video.
09-17-13
defective machine
received AeroPilates machine with metal wave in the top metal frame that prevents lining up all the holes to insert the reound bar....called customer service....will send back as soon as I can put it back togather and use enough duct tape to hold it for shipping...
09-16-13
Works smoothly but tough to set up
This pilates machine is a very nice compact machine and glides smoothly. The adjustable tension will come in handy as I get stronger. The rebounder does give a nice cardio benefit that you can feel. However, this took my daughter and me over an hour to set up because the instructions are very difficult to see (tiny print) and understand. It is also a very heavy machine (unless you are already in great shape) and seems to weigh more than the 60 pounds it was advertised as. Again, though, if you can get it upstairs and have 2 people to set it up, it works as well as the more expensive pilates machines. I doubt I will be folding it up because it will be too heavy for me (at least for now).
09-15-13
Best workout!
This makes exercising fun. You feel so great when your done! No more aching back or neck this keeps your posture perfect. Best fitness equipment I've ever bought. Highly recommended.
09-11-13