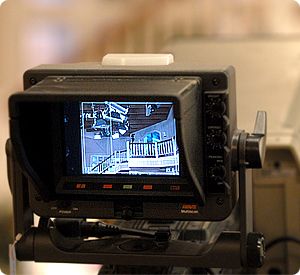 QVC, Inc., one of the largest multimedia retailers in the world, broadcasts live in the U.S. 24 hours a day, 364 days a year. A wholly owned subsidiary of Liberty Media Corporation attributed to the Liberty Interactive Group (NASDAQ: LINTA), QVC was founded in 1986 by Joseph Segel. Mike George currently serves as the company's president and CEO.
QVC's worldwide corporate headquarters, known as Studio Park, is located in West Chester, PA (30 miles west of Philadelphia). The building sits on 84 acres of land and is roughly the size of 15 U.S. football fields. In 2013, their original facility in West Chester was renamed QVC Founders Park.
QVC is home to one of the most technologically advanced television studios in the U.S. The 165,000-square-foot broadcast operations center enables QVC to produce its live programming, which attracts more than 22,000 on-air guest visits each year and showcases more than 1,000 products every week. There are 18 permanent sets and more than 100 portable scenic elements. Employing more than 17,000 people worldwide, QVC has international broadcast operations in the United Kingdom, Germany, Japan, and Italy. To date, approximately 60 million people have shopped with QVC worldwide. Its online counterpart, QVC.com, was founded in 1996 and attracts more than 6 million unique visitors each month.
In January 2009, QVC made its mobile debut and rolled out a suite of services that enable customers to utilize text messages for finding and buying products sold on QVC. Additionally, QVC unveiled its mobile website, m.QVC.com, where customers can browse QVC product and show information and make purchases.
In December 2009, QVC expanded its mobile presence with the launch of apps for iPhone® and iPod touch. QVC's iPad™ app became available on October 25, 2010.
QVC presents 1,150 products every week and approximately 288 of these are new to the QVC customer. Brand leaders include philosophy, Dell™, and Bare Escentuals.
QVC's live broadcast is supported by 25 program hosts. They come from a variety of different backgrounds and work 3 – 4 hour shifts on air, 4 or 5 days a week. Hosts prepare for on-air presentations by conducting research, engaging in meetings, and traveling the world to learn about products. They don't use scripts, cue cards, or teleprompters in their presentations.
QVC established its Facebook page in July 2008 and its Twitter page in January 2009. Attracting a large social following, QVC integrates these platforms into its live show, instantaneously responding to customer feedback and inquiries.
In January 2010, QVC was recognized as a "Top Ten" retailer for customer service, placing 5th in the National Retail Foundation 2009 Customers' Choice Awards sponsored by American Express. In 2010, QVC was recognized as "E-Tailer of the Year" by the Accessories Council.
In 2009, the American Apparel and Footwear Association, as well as the Fragrance Foundation, named QVC "Retailer of the Year." Additionally, QVC received the Fashion Accessories Merchandising Excellence Award at the 20th Annual Fashion Accessories Benefit Ball. QVC.com also ranked #3 for customer satisfaction in the ForeSee Results' "Top 100 Online Retail Satisfaction Index."
QVC has domestic call centers in Chesapeake, Virginia; San Antonio, Texas; and Port St. Lucie, Florida. On November 10, 2007, QVC set a record for the most orders taken in a 24-hour period with more than 850,000 orders. In total, there are four domestic distribution centers, located in Suffolk, Virginia; Lancaster, Pennsylvania; Rocky Mount, North Carolina; and Florence, South Carolina. These distribution centers can pack up to 300,000 packages daily. QVC's total worldwide warehouse space is the size of approximately 109 U.S. football fields. Over the past 24 years, QVC has shipped more than 1 billion packages in the U.S.
On November 12, 2006, QVC set a record for the number of shipments (more than 600,000) as well as the number of items shipped (more than 678,000) in a 24-hour period. And in 2010, QVC observed its largest Black Friday ever, realizing more than $42 million in orders.
On November 29, 2010, QVC observed the most successful Cyber Monday in its history, with the highest volume of traffic day in the 14-year history of QVC.com. The site attracted 2 million sessions from more than 1.4 million unique visitors, and QVC.com accounted for 50% of sales.
QVC achieved its best sales day ever on December 2, 2001, with over $80 million in orders taken. The Dell™ Intel Pentium IV PC was the most popular item sold on that day.
For the past 17 years, QVC and the Fashion Footwear Association of New York have joined together to broadcast QVC Presents "FFANY Shoes on Sale®", a charitable shoe sale that has sold over 1 million pairs of shoes and has donated more than $32 million to breast cancer research and education.
For several years, QVC has broadcasted Super Saturday Live, an exclusive sale in the Hamptons, previously only made available to celebrities. The broadcast allows shoppers throughout the country to purchase designer merchandise at half the manufacturer's suggested retail price, with net proceeds benefiting the Ovarian Cancer Research Fund.
QVC actively gives back to the community and supports a number of philanthropic organizations, including the United Way, Habitat for Humanity, Big Brothers Big Sisters, Susan G. Komen for the Cure, and Alex's Lemonade Stand.