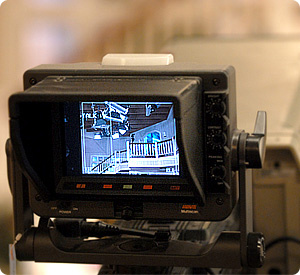 QVC, Inc., one of the largest multimedia retailers in the world, broadcasts live in the U.S. 24 hours a day, 364 days a year. A wholly owned subsidiary of Liberty Media Corporation attributed to the Liberty Interactive Group (NASDAQ: LINTA), QVC was founded in 1986 by Joseph Segel. Mike George currently serves as the company's president and CEO.
QVC's worldwide corporate headquarters, known as Studio Park, is located in West Chester, PA (30 miles west of Philadelphia). The building sits on 84 acres of land and is roughly the size of 15 U.S. football fields. In 2013, their original facility in West Chester was renamed QVC Founders Park.
QVC is home to one of the most technologically advanced television studios in the U.S. The 165,000-square-foot broadcast operations center enables QVC to produce its live programming, which attracts more than 22,000 on-air guest visits each year and showcases more than 1,000 products every week. There are 18 permanent sets and more than 100 portable scenic elements. Employing more than 17,000 people worldwide, QVC has international broadcast operations in the United Kingdom, Germany, Japan, and Italy. To date, approximately 60 million people have shopped with QVC worldwide. Its online counterpart, QVC.com, was founded in 1996 and attracts more than 6 million unique visitors each month.
Multi-Platform Leadership
QVC ranked as the 6th largest eCommerce player among multi-category retailers, and #15 across all industries according to Internet Retailer's Top 500 list. (April 2015)
QVC ranked 7th in social commerce sales and #11 in total unique visitors from social networks according to Internet Retailer's Social Media 50 list. (Jan 2015)
QVC was recognized by Internet Retailer's Hot 100 list for influence and innovation in eCommerce. (Dec 2014)
QVC topped the list among general merchandisers on RSR's 4th Annual Digital Gifting Benchmarking Study. (Oct 2014)
QVC ranked 5th among general merchandise online retailers according to the 2014 Favorite 50 Online Retailers by STORES Magazine. (Sept 2014)
QVC ranked as the 3rd largest mobile commerce retailer among multi-category retailers, and 5th largest across all industries according to Internet Retailer's Mobile 500 list. (Aug 2014)
QVC received the top rating in The E-Tailing Group's 5th Annual Mobile Mystery Shopper Study, which examined 50 retail websites on smartphones. (Aug 2014)
QVC's Content Production and Remote Production teams received 4 bronze and 2 silver Telly Awards for 2014. (July 2014)
QVC Germany received the highest overall score for Best Online Shop in the ServiceAtlas Online-Shops 2014 survey by ServiceValue GmbH. (April 2014). They also ranked #1 in the KauFRAUsch Survey 2013/14 and Germany's Association for eCommerce and Mail Order Business. (July 2014)
Customer Experience
QVC was named #3 on the list of top brands that delivers the best customer experience according to the 2015 Forrester Research Customer Experience Index. (April 2015)
In the 2015 Stevie Awards for Customer Service, QVC received a silver award for eCommerce Customer Service and a bronze award for Contact Center of the Year (over 100 seats). (Feb 2015)
QVC Germany was certified as "service tested" by TÜV (Technical Inspection Association) with a rating of "Very Good." (March 2015)
In the Answers Experience Index: 2014 U.S. Retail Edition, QVC tied for 1st with Amazon in the Customer Satisfaction for Web category. They also tied for 3rd with Newegg and Sony Store Online in the Customer Satisfaction for Mobile category overall and 2nd place among mass merchants. (Dec 2014)
QVC UK was named one of the 2014 Top 50 Companies for Customer Service, coming in 1st in the Social Media Customer Service category and landing among the top 20 for Customer Service calls. (Oct 2014)
QVC UK was also named the 3rd most-trusted brand in Britain according to the 2014 Nunwood Customer Experience Excellence Centre. (Oct 2014)
QVC Germany was the overall winner of the competition, Germany's Most Customer- Oriented Service Provider. (March 2013)
Employer of Choice
QVC has received the Air Quality Excellence Award by the Delaware Valley Regional Planning Commission and the Transportation Management Association of Chester County for implementing eco-friendly strategies, such as shuttle busses, sidewalks, and electric vehicle charging stations. (April 2015)
QVC was named one of America's Top Employers in 2015, and ranked 2nd for the Media and Advertising category and #141 overall out of 500 in companies, by Forbes. (March 2015)
QVC was named a Philadelphia Top Workplace by The Philadelphia Inquirer/Philly.com for the 2nd year in a row. (March 2015)
Linda Dillman, CFO, QVC, was named a 2015 Top IT Pro by the Philadelphia Business Journal (March 2015). She was also named a 2014 Top Woman in Technology by Cablefax (Nov 2014) and a 2015 Computerworld Premier 100 IT Leader (Nov 2014).
QVC was presented with the 2015 Ambassador's Award by the Philadelphia Irish American Business Chamber and Network (IABCN). The annual award is presented to a company that has helped to carry out the Chamber's mission of strengthening business and educational ties between Ireland and the U.S. (March 2015)
QVC UK retained its title as one of Britain's Top Employers of 2015 by the Top Employers Institute. (Feb 2015)
QVC received the Cosmetic Executive Women Foundation 2014 Beauty of Giving Award in recognition of the company's philanthropic achievements and commitment to the Cancer and Careers charity. (Dec 2014)
QVC UK was named the 2014 Employer of the Year at the Knowsley Business Awards. (Nov 2014)
QVC was named the Prestige Beauty Retailer in the 2014 WWD Beauty Inc. Awards. (Dec 2014)
Todd Sprinkle, VP of Content & Platform Innovation, QVC, was named a Top 10 Mobile Commerce Chief by Internet Retailer. (Nov 2014)
Mary Campbell, EVP of Commerce Platforms, QVC, was named a 2014 Most Powerful Woman in Cable by Cablefax. (Nov 2014)
Jo Lee, Beauty & Jewelry Buying Director, QVC UK, was named an ambassador at the Specsavers Everywoman in Retail Awards. (Sept 2014)
QVC was named the highest ranking winner for creative fundraising strategies in the Philadelphia Business Journal's 2014 Corporate Giving Awards. (July 2014)
QVC UK was awarded with a Carbon Trust Certification following an assessment of their waste data, waste reduction, and management practices. (June 2014)
Dress for Success Worldwide named QVC its Corporate Honoree at its 2014 Gala, Something to Share. (April 2014)
Mike George, President, QVC, was named to the 2014 Cablefax 100. (April 2014)
QVC Japan was awarded with the 2013 Nikkei New Office Award. (Aug 2013)
Beth Rubino, EVP of Human Resources and Workplace Services, QVC, was named a Philadelphia Business Journal Woman of Distinction. (Nov 2013)