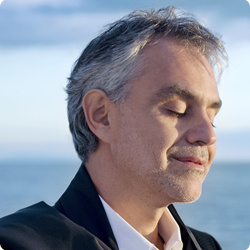 About Andrea Bocelli
Andrea Bocelli is an international superstar with a myriad of accomplishments. The Italian tenor has become one of the best-selling artists in music history with more than 80 million albums sold worldwide. Andrea has performed for four U.S. presidents, two popes, and the British royal family, as well as at the Olympics and World Cup.
But it's Andrea's fondness for his early years that has partly inspired a new album, Passione. This newest CD compiles a lush selection of the musical moments that are rooted in his youth. "It's a collection of cherished memories, fluttering emotions, sleepless nights that ended at dawn, voices and hands, endless talking, and making little sense," he says.
Information provided by Align EG.