About Valerie Parr Hill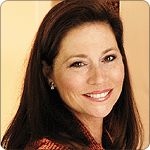 Valerie Parr Hill is the founder and president of The Valerie Parr Company, which distributes her own line of decorative accessories, wreaths, candles, bedding, rugs, and accent furniture.
Valerie was born in Rochester, Minnesota and raised in Lexington, Kentucky, where she was crowned Kentucky's Junior Miss in 1975. She earned her bachelor's degree at Asbury College in Kentucky and went on to earn her master's degree in communications at Wheaton College in Illinois and studied not-for-profit marketing at Northwestern University's Kellogg School of Management. In the eighties, Valerie served in the public service sector, fund-raising for higher education, wildlife protection, and fine arts institutions.
Following her personal passion for hospitality, Valerie began designing decorative home accents to sell in catalogs and at stores, and imagining ways she could inspire and help others to create warm and welcoming homes. Her passion led her to publish a how-to decorating book, Decorating for the Holidays, and she begin working with QVC.
Valerie's first QVC show, Decorating with Wreaths, premiered in 1993, and was an immediate success. Now for more than a decade, Valerie Parr Hill has been an avid designer and purveyor of home decorating accents, specializing in items that help her customers create warm and welcoming homes in the midst of their busy lives. Valerie appears frequently on QVC and with her own programs, Heartfelt Home, Heartfelt Holidays, and Home Fragrances. During these shows she offers decorating tips and advice on how viewers can create a warm, welcoming home.
Valerie and her husband, Will, reside in New Jersey with their two sons.