2.00 ct tw Kanchanaburi Blue Sapphire & 1/10cttwDiamond Ring, 14K Gold
In Stock
Sold Out
We're sorry. This item is not available at this time.
Pre Order Possible .
Low Stock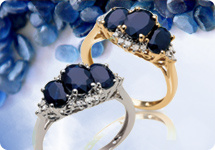 "Kanchanaburi sapphires are well known for their deep, inky-blue color. Mined in Bo Phloi, a remote area of Thailand near the Burmese border, they are quite scarce today because of the limited mining that has occurred there since 2009. The mine owner has been busy reclaiming the land and turned the mines into beautiful lakes and a golf course."
—Peyton Kelley, Gemologist
Description
Take in the breathtaking, deep blue beauty of Kanchanaburi sapphire, showcased to dramatic effect atop this stunning 14K gold ring. Accentuated with round diamonds, the ring's three-stone silhouette is timeless. But it's the uniquely rich color of this incredible sapphire that makes the piece exceptional!
An uncommon find. Hailing from a remote area of western Thailand, Kanchanaburi sapphire is a truly special gemstone. Because of the remoteness of the area from which it is mined, very little mining has occurred since 2009, making the gemstone a treasure to own. Maybe even more inspiring than the hypnotic depth of Kanchanaburi sapphire's deep blue hue is the effort taken to conserve the land from which it is mined: the area's ecosystem was rebuilt after mining, made to thrive once more. Now that is true-blue beauty.
Perfect for brides, September babies--and just because--this ring is one you'll love for a lifetime. Beyond classic, it's an heirloom-quality luxury that will be cherished for generations.
14K Yellow Gold or 14K White Gold.
For more details on this ring's fit, please refer to the Ring Size Guide above.
Total Kanchanaburi sapphire weight is approximately 2.00 carats
Total diamond weight is approximately 1/10 carat; diamond weights are minimum weights
Features three oval faceted blue Kanchanaburi sapphire gemstones secured by four-prong settings
Round diamonds accentuate the center and shoulders
Ornate openwork gallery
Highly polished
Standard fit; sizes 5, 6, 7, 8, 9, 10
Measures approximately 3/8"L x 3/4"W
Made in China
Reviews & Community QA
2.00 ct tw Kanchanaburi Blue Sapphire & 1/10cttwDiamond Ring, 14K Gold
103
103
Unbelievable quality, perfect ring!
I fell in love with the picture of this ring. When I received it, I died and went to Heaven! What a value for a great looking ring!! I am quite impressed. I hope QVC continues to bring these kinds of valuable jewellery items, which are worth getting, and paying for. Thank you QVC!
09-26-13
Gorgeous and Classic with a modern twist!
I purchased this ring a few months ago in the white gold, but then returned it, thinking I might have wanted another style of ring. BIG MISTAKE!! I regretted returning this ring everyday and decided to purchase it again! This time only the yellow gold was available and I have to say that I love it more in the yellow than I did in the white gold! It's a deep rich blue which I simply adore! My husband gave me the option to choose a new ring for my wedding set, so I wear it as an engagement ring and it is simply Gorgeous! I'm in love with the deep rich very inky blue that this ring presents and I get compliments on this ring wherever I go! This was definitely the right decision for me, and am very glad that I was able to get another chance at owning this classic stunner!
07-15-13
Beautiful Ring
I have the white gold on waitlist and ordered yellow gold when it became available and at a lower price than the one I have on waitlist. This review is for the yellow gold. I typically only wear silver or white gold and took a chance with the yellow gold. I have been looking for a temporary replacement of my engagement ring until I lose my baby weight. I am not disappointed in my purchase. This ring is stunning. I am sad for those that dislike and say the stones are too dark. I noticed the rich deep blue color immediately upon opening and in the light it shines. The diamond accents add a nice touch of sparkle. I am really hoping that the white gold will ship out since it will match my wedding band but if not, I am happy with the yellow gold. Only issue is that it runs a little bigger than I expected. I think my size 6 fits more like a 7.
07-05-13
This is the BEST Birthstone Ring I have owned!!
I ADORE this ring!! The 14k yellow gold is BEAUTIFUL!! The Sapphires are gorgeous!! And it doesn't hurt that there is just the touch of Real Diamonds!! LOVE LOVE LOVE!! THANK YOU, QVC!!
06-12-13
Exceptional Ring!!
I purchased this ring as a tribute for my twins who were born in September! I don't own many pieces of sapphire jewelry but I am very happy to start my collection with this piece!!! It is very light on the finger and the diamond accents play off the dark blue of the ring nicely!! Enjoy wearing this piece, I know I will!!!
05-31-13
I love this ring!
I don't often write reviews but I love the dark color of this ring and it is just the perfect size stone and thickness of gold, a great buy!
05-19-13
Love It!!!
I have looked at this ring for a long time. It is absolutely beautiful. It is dark navy blue and it sparkles. It is my 20th anniversary present from my husband, and I will treasure it forever.
04-16-13
Beautiful ring!!
I just received this beautiful sapphire ring, purchased it for myself. I love the stones they are dark but definitely blue. I like this ring so much I may never take it off!! Love this ring!!
03-16-13
Keeper
Very pretty ring. Stones are very definitely BLUE.
03-04-13
As Described GORGEOUS
I always review the ratings. This is More Gorgeous than the pictures, Delicate but Classy. The Dark Blue is Beautiful .. thank Qvc, I Love it!
01-15-13
Very Pretty
This ring is very nice. I have had my ring for about a week now ( I got the yellow gold) and have worn it every day....these stones are dark blue. For everyone out there who is expecting sky blue or aquamarine or even a traditional sapphire blue this ring does not offer that.....this is deep navy blue in a gemstone. The setting is really cute and the diamonds add just enough extra sparkle. The only reason I gave it four stars and not five is because the size seven I ordered is too big for me....I will have to take it to a jewelers to have it sized. If this ring had fit perfectly out of the box it would have gotten 5 stars out of me.
01-12-13
Beautiful ring!
This is the prettiest saphire ring I have ever seen! The tiny diamonds provide a nice 'frame' around the stones. I love it, it is my favorite ring that I own. This would be a great gift, I bought it as a gift to me!
01-12-13