About Alexandrite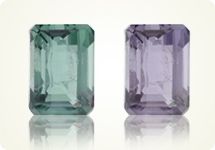 First discovered in the Russian Ural Mountains in the 1830's, alexandrite was named in honor of Tsar Alexander II. Today, this exotic gemstone can be found in few locations around the world, often in small sizes.
Alexandrite belongs to the chrysoberyl family, but its color-changing properties make it unique. This phenomenal gemstone changes color depending on the light source. In daylight, alexandrite appears green; in incandescent light, it appears a brownish or purplish red.
Important note: These images are not actual gemstones. They are retouched digital images that approximate the color ranges you will see in the gemstone you receive. Actual color ranges may vary depending on your gemstone.