Jim Shore Heartwood Creek "Pilgrim Patch" Pumpkin Pilgrim Figurine
In Stock
Sold Out
We're sorry. This item is not available at this time.
Pre Order Possible .
Low Stock
Description
Give thanks for this festive figurine. Three stacked pumpkins create this adorable pilgrim. He wears a black hat, and carries a basket of fruit in his right hand and a lantern in his left. From the Heartwood Creek Collection by Jim Shore.
Green vine arms; top of the body is decorated with dark orange and light orange quilt-like pattern
Bottom decorated with multicolored rosemaling
Base has green vines and quilt-like patterns
Made of stone resin to resemble carved wood
Measures approximately 9-3/4"H
Made in China
Important Details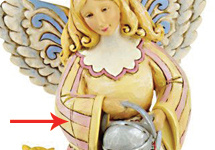 Why are there cracks on my Jim Shore figurine?
The cracks are part of the molding process and design of each Jim Shore piece. They're included to resemble the look and feel of real hand-carved wood.
Reviews & Community QA
H06251 - Jim Shore Heartwood Creek Pumpkin Pilgrim Figurine
20
20
My First Jim Shore Purchase
This piece is so beautiful. I'm glad I took a chance and ordered it. I collect snowmen and just couldn't resist. The only problem was when I opened the box, the lantern was not attached. I was able to put it back on with super glue and have had no problem with it coming back off. The work is very detailed and gorgeous. Love it!
11-16-08
Great Holiday Decoration
This is my first Jim Shore purchase and I can see an addiction coming on. This is an absolute beautiful piece of woodwork. The detail and color is amazing. I have a hard time finding decorations for Thanksgiving, so was very pleased to find this. I would definitely recommend this to anyone.
11-07-08
Beautiful Craftmanship
This was a very first purchase from Jim Shore I can't believe the equisite detail and beautiful colors. It is a cherishable piece. Since I have purchase a few other pieces that I can't wait to receive.
10-17-08
He's perfect!
This is a beautiful piece by Jim Shore, and I am anxious to obtain the girl pumpkin figurine that goes so well with it, though they have sold out. Please ask Jim to make it available to us next year, if he can't get any more to QVC for distribution this year. LOVE HIS WORK--you will too. Colors and detail work much more vividly depicted on the actual piece than what you see online. You'll not regret this purchase; it will be a wonderful addition to a family tradition at Thanksgiving, and all through the fall each year.
10-10-08
Beautiful :)
I purchased this item for my sister and her husband for their anniversary. I was there when she opened it and it is absolutely beautiful :) I liked it so much that I just ordered one for myself. It is so cuteand well made. I am just so pleased with it. I have purchased about 15 items over this year, some for family, friends and myself and everyone has been very happy with their items. This one in particular is now one of my "favorites"!!!!!! Thank you------ Jim Shore and QVC. This is just adorable..... :) Little Ruthie
09-30-08
Autumn Delight!
As in all Jim Shore pieces this is exceptional craftsmanship and beauty. This piece will take you from Fall right through Thanksgiving. It is absolutely beautiful. It is on my kitchen counter as of today when I received it and will remain until Thanksgiving ends. I love it!!! Happy Fall. Thank you, Jim Shore and QVC.
09-30-08
Love It
I received this pilgrim (who I call the man pilgrim) and also the "woman" pilgrim. They are both beautiful and look cute together.
09-25-08
BEAUTIFUL
This a work of art! Workmanship perfect! This is a great item for fall, halloween or Thanksgiving. I am going to buy one for each of my girls and start a tradition of giving one Jim Shore item each fall! Highly recommend to any one who loves beautifully done decorative items. Dawn from Florida
09-23-08
Another Great Masterpiece
I just rec'd my Pumpkin Pilgrim Figurine and once again Jim Shore has out did himself...Everytime I get one of his pieces I am amazed at the talent he possess. I am so thankful that he has chosen to take his talent and make all of us so happy through his handiwork...You too will be taken back with the beauty of this piece...thankyou QVC and above all THANKYOU Jim Shore...
09-19-08
Beautiful!
I let this piece go last year. Unfortunately, I did not see waitlist offered & at the time, no other retailer carried the piece either. I got an email about the companion piece this year & I was able to now find this piece available again. It's a beautifully detailed piece! Just what you'd expect from any Jim Shore item. The lantern had come off of its hanger in shipment, but I was able to fit the lantern back on. It was a nice, tight fit, but I'll probably take it off & add some glue to be on the safe side. Beautiful piece!!
09-13-08
Fabulous
I love this and the lady figure. The colors are absolutely gorgeous. They are now my favorites of all of Jim Shore's products.
09-10-08
Worth the Wait!
Been on wait list for this figurine since last August. Just received it in January and it was worth the wait! The wire vines on this figurine gives it an added touch of whimsy. Looking forward to displaying it in the fall.
01-24-08